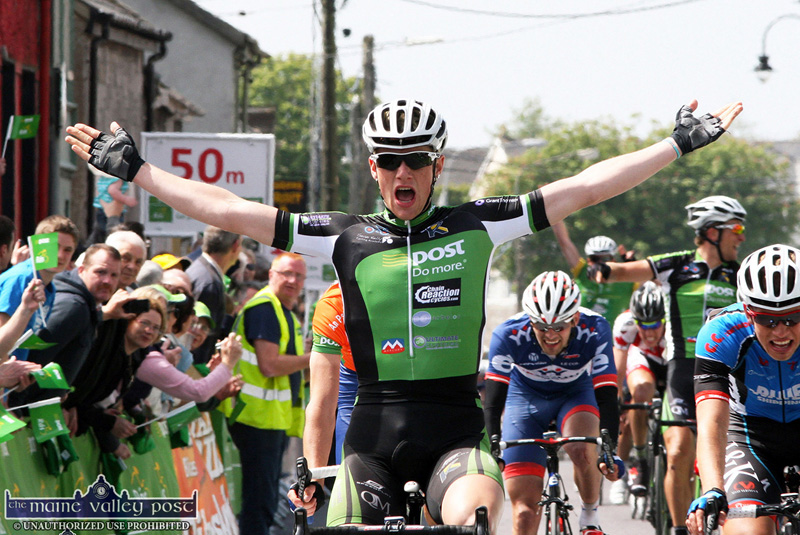 Carrick-on-Suir man Sam Bennett has achieved a feat that every cyclist the world over dreams of. Today he won a stage of the Tour de France into the island town of Ile de re Saint Martin.
By John Breen, Currow Cycling Club
Sam had been knocking at the door in terms of getting this victory but with his team's commitments elsewhere today was probably the first time the focus went onto him and he duly obliged with a win by the width of a racing tyre. As a considerable bonus he has wrestled back the Green points leader's jersey awarded to the leader of the race on points and is the target for the sprinters in the race.
The Johnny Drumm Cup
Why is the Maine Valley Post reporting this you might ask but Sam Bennett's first major win was in the Johnny Drumm Cup of 2007. He caused a massive shock as a 16 year old by winning the race in Currow as he was totally unknown at that stage of his career.
He was actually overlooked as an underage rider struggling to get a place on a team which makes this story more remarkable.
He defended his Drumm Cup victory twice and by 2009 where his only win in the season was the Drumm Cup he added a stage of the Rás Tailteann into Cootehill.
RÁS Stage Win into Listowel
Then his career blossomed with another stage win of the Rás into Listowel and a stage win in the Tour of Britain before securing a place in the world pro tour of cycling which saw several victories leading up to today's iconic and incredible victory in the Tour de France.
You get the impression that Sam is not finished yet and further success could be on the way as he will be trying desperately hard to emulate his neighbour Sean Kelly in taking the Green jersey to Paris.
Modest And Unassuming
Sam is known in cycling circles as not only being a top cyclist but he is very modest and unassuming person.
He never forgot where he came from and anyone that saw his emotional interview today after winning could see his immediate reaction was to thank everyone that helped him along the way.
Drumm Cup Wins Acknowledged
Sam Bennett has often acknowledged his wins in Currow in the Drumm Cup.
The winners' list of this annual race can boast of Rás winners, Rás stage winners, Irish champions and indeed a who's who of the top Irish cyclists.
This evening we can add in a Tour de France stage winner and it stands as another tribute to the memory of our own Johnny Drumm.