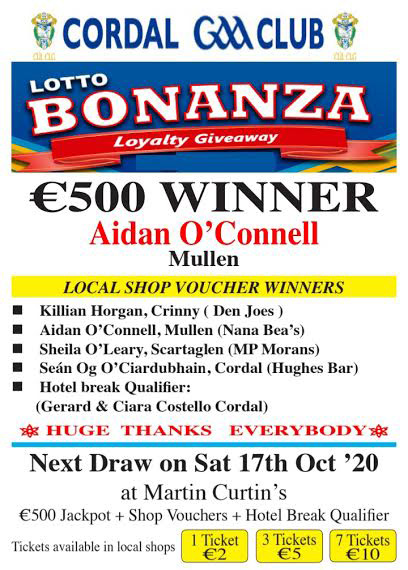 Bonanza Bonus For Aidan
Our recently held draw at Den Joes was a great success especially for young Aidan O'Connell from Mullen.
By: Tim O'Donoghue, PRO
Aidan won the Big Bonanza Prize of €500 and, unbelievably, he was drawn out again for a voucher prize.
Well done to the Aidan and of course to all our other winners.
All the Winners
Along with Aidan O'Connell's big prize win, the Shop Local voucher winner were as follows: Killian Horgan, Crinny – Den Joes; Aidan O'Connell, Mullen – Nana Bea's; Sheila O'Leary, Scartaglen – MP Moran's; Seán Óg Ó Ciardubháin, Cordal – Hughes' Bar. Hotel Break qualifier: Gerard and Ciara Costello, Cordal.
Our next draw is 'Up Town' at Martin Curtin's Shop on Saturday, October 17th.
Help Local Shop Local.
Covid Shutdown – All Games Cancelled
Unfortunately with Level 3 Covid-19 restrictions coming into effect all games are cancelled for the near future.
Matches or events will not take place. The teams in the U-6, U-8 and U-10 ages are now finished for the year.
We would like to thank all parents and the children who participated in this tough year for GAA activities.

You can contact The Maine Valley Post on…Anyone in The Maine Valley Post catchment area who would like to send us news and captioned photographs for inclusion can send them to: jreidy@mainevalleypost.com
Queries about advertising and any other matters regarding The Maine Valley Post can also be sent to that address or just ring: 087 23 59 467.