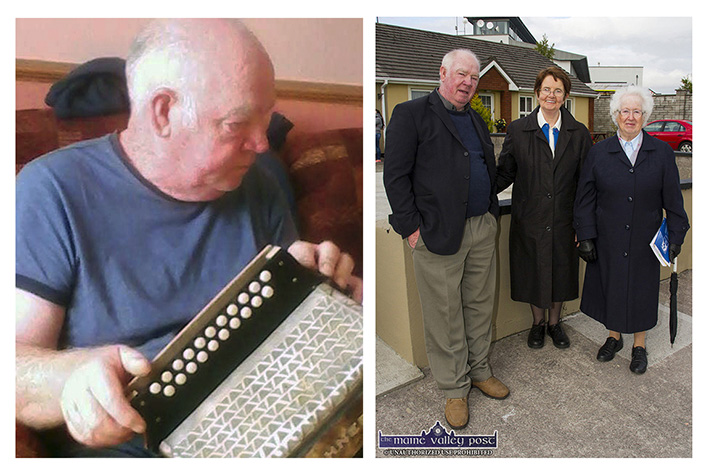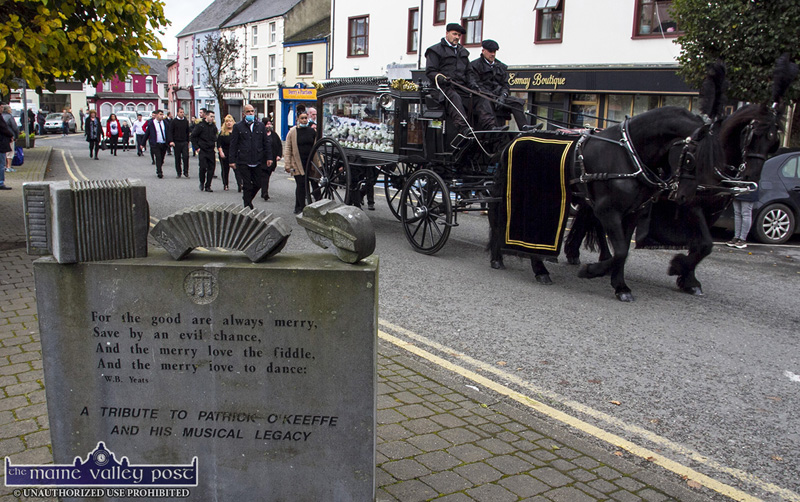 Business in the Covid-19 restricted town of Castleisland came to a halt on Monday as the remains of the late John Coffey of No. 9 Cahereens West were taken from the Church of Saints Stephen and John to St. John's Cemetery in Kilbanivane.
Known as 'Big John' to his family and friends, John Coffey was born in Caherciveen a month short of 70 years ago.
The third oldest of 11 children, to Batty and Bridgie Coffey, he would have been 70 on the coming November 15th.
Mad for Boxing and the Cinema
Members of the older generation here in Castleisland will remember his late brother and gentleman, 'Ginger' who worked with Tom Boy Hickey in the 1970s before dying at a young age.
They were both great attendees at the Astor Cinema and at the local boxing club – upstairs at St. Mary's Parish Hall where the Church Street veterinary centre is now – across from the Presentation Secondary School.
Horses and Carriage
John's remains were borne on that final journey by a carriage pulled by two handsomely turned-out horses by Donoghue's of Thurles, Co. Tipperary.
He was predeceased by his wife, Hanna, nee O'Brien on December 22nd 2010, and is survived by his children: John, Noreen, Anna, Thomas, Michael and Tony and by his siblings, relations and friends.
Daughter's King and Hero
He is remembered by his daughter Noreen as her king and hero and as an outstanding grandfather.
And to his sister, Breda as an older brother who looked after her and one to whom she looked up and admired.
"We were very proud of him when he entered the army and it was an inspiration to those of us younger than him," the now London based Breda recalled.
An older member of the family told Breda that John always worked at something or other and was never idle.
"They told me he bought his own bicycle as a boy in Caherciveen from money he saved from odd jobs he used to do around the town there.
Flair for Music
"He minded that bike and you couldn't even look at it as he was that careful of it," she said.
John kept up the flair for music which was so much part of family life for generations. His father Batty was one of the best known musicians at fair days and at big football matches in Tralee and Killarney.
He was so ingrained in local folklore that the late Denny 'Good Denny' O'Sullivan based a question on him one night at Brennan's Bar that had well known GAA aficionados scratching their heads.
Played During Three Games
There was a minor, U-21 and senior triple-header in Tralee on which Denny based his question.
"Who came on and played during all three games that day in Tralee," was Denny's puzzler.
After a shower of likely answers and all engrossed in the investigation had given up, Denny piped up with: 'Batty Coffey,'
John joined the Irish army and learned many skills while there and these led him to gaining work in hotels in Killarney and various parts of the county as a teenager and by now the family had moved to inland to Farranfore.
That Famous Melodeon

He still had that famous melodeon and often played a tune on it and was well up for going out on the Wren if there was a gang organised.
Even if they weren't going out he would take out the melodeon and play a few tunes on it for the sake of it.
In more recent years he enjoyed going around to car boot sales and was constantly picking up and selling-on bits and pieces and he had a regular pitch at the Sunday morning market in Tralee.
Sadness at his Passing
His family members were reliably informed that he was missed at the market over the past few weekends and there was great sadness when the news of his passing reached his fellow stall holders last weekend.
The late John Coffey, Caherciveen, Farranfore and Castleisland. 1950 – 2020.
May God be good to him.

You can contact The Maine Valley Post on…Anyone in The Maine Valley Post catchment area who would like to send us news and captioned photographs for inclusion can send them to: jreidy@mainevalleypost.com
Queries about advertising and any other matters regarding The Maine Valley Post can also be sent to that address or just ring: 087 23 59 467.