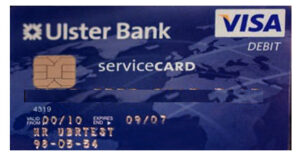 Liz McGaley sent a message that an Ulster Bank Debit Card was found on Main Street, Castleisland today, Saturday and the name on it is Mary Daly.
"I was wondering would you be able to put a post up in The Maine Valley Post to in the hope that we can get the card back to this lady.
If anyone out there knows a Mary Daly you might let her know that it may be her card that was found here today.
You can ring 087 23 59 467 and the message will be passed on to the finder.

You can contact The Maine Valley Post on…Anyone in The Maine Valley Post catchment area who would like to send us news and captioned photographs for inclusion can send them to: jreidy@mainevalleypost.com
Queries about advertising and any other matters regarding The Maine Valley Post can also be sent to that address or just ring: 087 23 59 467.