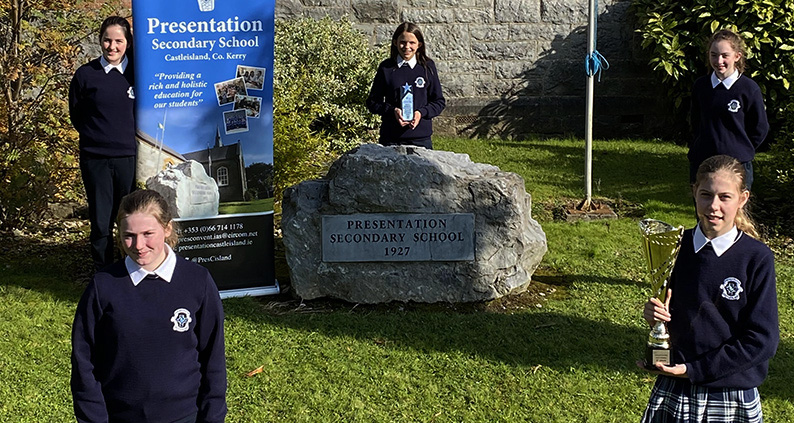 Presentation Castleisland students and entrepreneurs have finally received their trophies for their award winning entries in six county and two national competitions from the Kerry Local Enterprise Office.
The Student Enterprise Programme begins in September each year, with county finals in March and the national final in May.
"We have been very lucky to represent Kerry at the national final for four of the past five years," said award winning enterprise teacher Pierce Dargan.
High Profile Awards
Last year our school had two of the three national finalists from Kerry at the national final.
The projects included: Junior Category – 'Cast Aways' – waterproof cast covers for both arms and legs, made from recycled tents and car covers.
Junior Category – 'Double Doggy' – two-in-one dog lead made from recycled leather belts, that had pouch attachments for empty and used dog bags.
Intermediate Category – 'Gaelic Touch' – Gaelic football boot cover training aid, to assist with the various kicks involved in the game.
Intermediate Category – 'Sála Síos' – 3D printed horse stirrup attachment, to aid in the correct foot position while riding a horse.
Senior Category – 'Glúin agus Glan' – washing machine kneeler, that helps protect your back while inserting and removing the washing.
County and National Results
Last year's county final prizes were as follows: First place in the junior category – Cast Aways; First place in Intermediate Category – Sála Síos; Runner-up in intermediate category – Gaelic Touch;
Best Business Plan – Glúin agus Glan; Entrepreneurial Educator of the Year – Pierce Dargan; Overall School Prize – Presentation Castleisland.
National Final Results
Third place in junior category – Cast Aways and second place in the intermediate Category went to Sála Síos.
Proud Moments Shared
It was a very proud moment for the students, their teacher and their families.
Over 26,000 students enter the Student Enterprise Awards each year and to win two national titles for a third consecutive year is a phenomenal achievement.
It is a massive achievement for the school to have won two national titles, in two of the three categories.
21 County Titles in Five Years
We have claimed 21 county titles and six national titles in the past five years.
We are currently the leading school, not just in Kerry but in the country, in student enterprise.
The competition allows students to run a real life business from the age of 12 and to develop skills, such as public speaking.
Aiming for Four-in-a-Row
The confidence each student gains, flows back into the classroom and is reflected in the excellent results achieved in state examinations.
The Student Enterprise Programme hugely compliments the subject of business studies.
The challenge for this year is to do it all again and aim for a fourth national title in a row.

You can contact The Maine Valley Post on…Anyone in The Maine Valley Post catchment area who would like to send us news and captioned photographs for inclusion can send them to: jreidy@mainevalleypost.com
Queries about advertising and any other matters regarding The Maine Valley Post can also be sent to that address or just ring: 087 23 59 467.