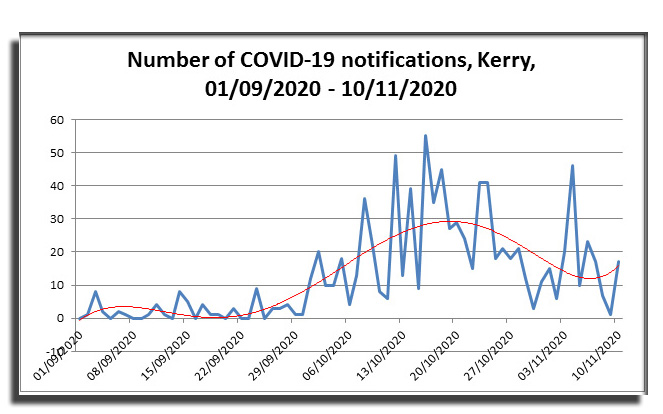 Kerry is making progress in the drive to bring the number of cases of Covid-19 in the region as close to zero as possible, according to acting Director of Public Health for the HSE South area Dr. Anne Sheahan.
Dr. Sheahan today thanked the people of Kerry for their hard work in recent weeks to stop the spread of Covid-19, and said that this work is beginning to pay off.
Worrying Increases – But….
"We had kept the level of the virus in Kerry very low for several months, but from late in September and early October we saw some very worrying increases. 
The people of Kerry are now working together to turn that around, and it's important to let you know that this is making a difference," she said.
While the number of cases of Covid-19 in Kerry still needed to drop further, Dr. Sheahan said she has seen reassuring trends in the last week or so.
Doing What's Needed 
"I want to thank the people of Kerry for everything they have done. It's clear that you are doing what's needed to bring the virus under control in your communities.
"I am glad to let you know that we are seeing some positive signs.
"The graph shows that the trend is continuing this week, and this is very encouraging."
Making Difficult Choices 
Dr. Sheahan said this reduction has been achieved by the people of Kerry making difficult choices.
"I know that the current restrictions to stop the spread of Covid-19 are particularly hard. We are beginning to see the impact of some of the restrictions, but it's important that we stick with the actions which protect us all.
"We need to bring the number of cases in Kerry back down to almost zero. We haven't reached that point yet, but if we keep up the measures then I am confident that we will," she said.
A Reminder of The Practices
Dr Sheahan reminded everyone of the practices which we all need to keep up.
"In particular, I am asking you to remember: The virus spreads from person to person quite easily. That is why it's important to keep our distance.
"We all need to be aware of the symptoms of Covid-19, and when we need to self-isolate – stay in our rooms – or restrict our movement – stay at home.
Use HSE Site For Reliable Information
"I'd encourage everyone to use hse.ie as the best source of information on symptoms and the actions we all need to take.
"If you have symptoms, you need to stay at home, contact your GP who will arrange for a free test. Anyone waiting for a test or a test result needs to stay at home," said Dr. Sheahan.

For reliable information on matters relating to Covid-19 go to: www.hse.ie

You can contact The Maine Valley Post on…Anyone in The Maine Valley Post catchment area who would like to send us news and captioned photographs for inclusion can send them to: jreidy@mainevalleypost.com
Queries about advertising and any other matters regarding The Maine Valley Post can also be sent to that address or just ring: 087 23 59 467.