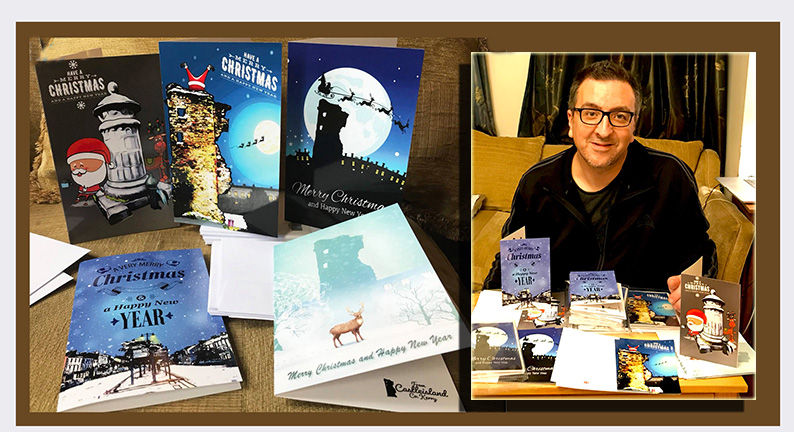 Graphic artist and Castleisland native, Richard Nolan lived and worked in the IT industry in Dublin for just over two decades before moving back home around five years ago.
Eventually starting out as a freelancer in digital art, graphic design and website construction and management, Richard is steadily making a name for himself as the 'go-to' man when it comes to getting your events or your products on-line.
Putting Local Events on a World Stage
The two separate organising groups behind World Fiddle Day Scartaglin / Handed Down and the Patrick O'Keeffe Traditional Music Festival have good cause to sing Richard's praises as he eased their Covid hit festivals off the streets and out to world-wide and appreciative audiences over the past few months – and with the greatest of ease and a complete absence of fuss.
Away from Home
"I've lived away from home, wanting news and for the last decade or so, know what it's like to live here full time," said Richard as he brought us to to speed on his current situation.
"I always thought when I lived away that the town should have a bigger online presence and figured I could make some inroads on that as a freelancer around the place.
More Focus During Pandemic
"Not just the various businesses – apart from a few good exceptions that have been doing it a while – but everything else that makes up the town – general town info, sports clubs, and its music festivals.
"It's been a slow enough process, slower than I'd have liked, but the pandemic has made everyone here more focused in this area.
Great Online Concerts
"This year for example, as well as maintaining some great archives on their websites of past musical performances for both, I helped both festivals put out great online concerts this year for World Fiddle Day Scartaglin, and three concerts the weekend of the Patrick O'Keeffe Traditional Music Festival, all very successful.
YouTube Premiers
"I'm sure most locals who normally frequent pubs all weekend for these festivals missed being out and about to say the least.
"On the other hand, the lads were able to gather some great Sliabh Luachra music which I edited together for them and created the YouTube premieres.
"These will now live online, forever hopefully, as a great testament to the great musicians that are around here… all those videos had great viewing numbers on the night and been viewed many times since. I think I would have loved tuning in if I still lived in Dublin.
Santas, Rudolfs and Snow
"The cards were a similar idea, in that I always thought it'd be cool if they existed and if I ever was to send a card, would have used them.
"They're just usual Christmas imagery really, Santas, Rudolfs and snow, but something distinctly 'Castleisland' like the castle or the fountain that gives them a far more personal touch.
"That's especially true this year when we know our movements are restricted and most people will be spending it at home.
"ld like to do more in this area, be it designing for other places or more occasions.
Digital Art the Favourite
"Digital Art like that would be my favourite job to do anyway, I do some portraits for people usually in a cartoon style they like, like the Simpsons or children in any cartoon they like.
"Once the digital picture is created, it can be printed in a  variety of sizes and options like signage that can go anywhere these days, and any can be printed any number of times – which is the big advantage of digital art.
Being Pro-Active
"But as yet anyway, there's not enough of that work around, so I decided to be pro-active and just design cards myself and get them printed and see how much interest there is via Facebook," said the enterprising Richard in conclusion.
Richard's Castleisland Christmas Cards can be found in shops in Castleisland or from himself directly on: 086  839 5184  or see his own website with a click on the link here: www.facebook.com/Art-Customized-228286930579072

You can contact The Maine Valley Post on…Anyone in The Maine Valley Post catchment area who would like to send us news and captioned photographs for inclusion can send them to: jreidy@mainevalleypost.com
Queries about advertising and any other matters regarding The Maine Valley Post can also be sent to that address or just ring: 087 23 59 467.