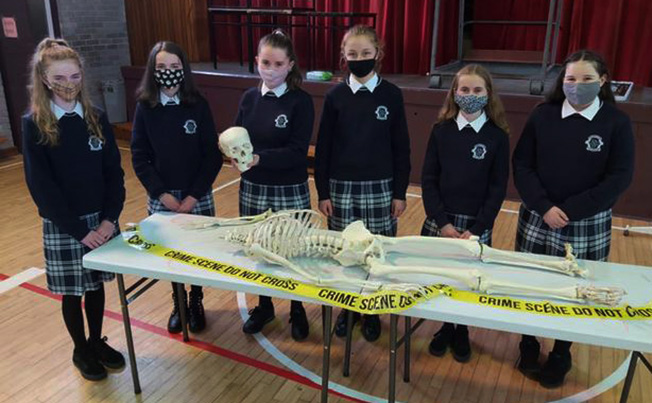 Presentation Castleisland is the only secondary school in Kerry to be chosen to participate in a STEM school digital excellence programme.
The students are STEM role models for pupils in local primary schools in their cluster and a range of videos are available on the school's social media outlets.
Science Week Video Launch
The first year STEM role models launched two videos during science week. The first is a STEM virtual experiment to show the students in the cluster schools how to use the microscopes and prepared slides that cluster schools received in their STEM packs last March.
The students used STEM iPads to shoot and edit the video.
Covid Safety for Primary Schools
The first year role models narrated, filmed and assembled a Covid safe video and thought that science week was an opportune time to spark enthusiasm for this discussion.
They also decided to organise a COVID safe competition and invite all primary schools to participate to show how their school is being Covid safe.
They are free to choose from many different ways to communicate their message by means of posters, slogans, videos, PowerPoints presentations etc.
Best Entry Prizes
The best entry in each class group will receive a prize. These prizes include Science packs, PPE, stationary and more.
Many workshops took place in Presentation Castleisland including: 'Surprising Science' with Dr Matt Pritchard.
Students witnessed science magic tricks and were encouraged to ask the Wow, How and Now questions – the kind of questions real scientists ask themselves and each other everyday.
Due to COVID, all classes were able to engage in this workshop virtually, in their own class groups.
Discover Your Tap Water
Second years enjoyed an interactive workshop called 'discover your tap water' where they learned about the intriguing science behind the processes of the hydro-logical cycle, all the way to everyday water use.
First year students enjoyed a Forensic Science workshop run by Science Foundation Ireland. They watched an interactive video and then took part in some forensic investigations.
They enjoyed examining fingerprints and footprints, making invisible messages using indicator solution sodium bicarbonate, using chromatography to identify who wrote the ransom note and using UV light for examinations.
Exciting World of Physics 
A SOPHia Physics workshop took place for TY students and was all about the exciting world of physics!
It featured science experiments, some information about what physics is about, stories about famous physicists, career options in physics, and some things for students to try out at home or in the classroom.
Physics students in the University of Limerick explained their story of how they came to study physics.
The workshop aimed to get more young people considering physics as a subject, and have some fun along the away.
Challenging Career Stereotypes
"Students in Presentation were encouraged to challenge the stereotypes of careers in physics and were able to try out some fun experiments," said teacher Dayna Hurley.
"TY students took part in Irish Manufacturing Research 'Who wants to be a Kahootaire!' quiz in which they competed against over 1500 students.
"All first, second and third year classes took part in Science Week Quizzes and the winners received science packs and vouchers for some delicious food in the school canteen
"Each day during the week, a science riddle competition was held. The whole school community took part, answering the riddles through the Office 365 Teams.
Science packs and vouchers were won by the lucky winners each day," said Ms. Hurley.

You can contact The Maine Valley Post on…Anyone in The Maine Valley Post catchment area who would like to send us news and captioned photographs for inclusion can send them to: jreidy@mainevalleypost.com
Queries about advertising and any other matters regarding The Maine Valley Post can also be sent to that address or just ring: 087 23 59 467.