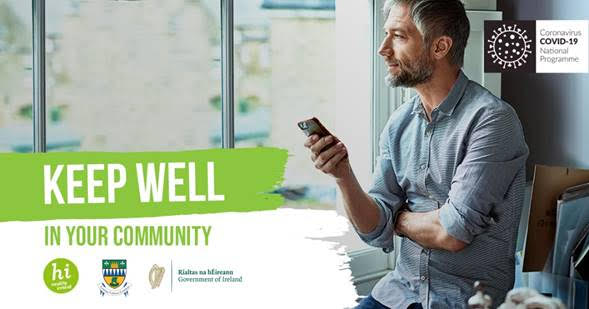 As part of the Government's Resilience Campaign during the COVID-19 pandemic, Kerry County Council is inviting people in the county to participate in and avail of a programme of events and initiatives which are being rolled out across Kerry under the national 'Keep Well' campaign.
Online Information
The local authority will be providing information online about keeping well during the corona-virus pandemic and promoting several health and well-being initiatives in line with the government's 'Plan for Living with COVID-19.'
These initiatives will be planned and delivered in close collaboration with other local agencies in Kerry.
Five Keys to Wellbeing 
The campaign highlights the important role that individual and community resilience will play in contributing to the ongoing response to COVID-19 and is aimed at showing people of all ages how they can mind their own physical and mental health and well-being by adding healthy and helpful habits to their daily and weekly routines.
The campaign encourages five key ways to well-being, which are:
Keeping active and being outdoors – even during the winter, it is important to help physical and mental health and well-being.
Staying connected – staying connected with people and addressing isolation as person-to-person connection is important to our well-being.
Switching off and being creative – switching off and being creative or learning something new, getting back to nature and finding ways to relax can help our general well-being.
Eating well – by nourishing your body and mind we can positively impact our physical and mental well-being.
Managing your mood – equipping people with information on where to go if they need support.
Interagency Project Involvement  
The campaign involves interagency projects with many of the council's existing services and departments including Kerry Libraries, Kerry County Council Arts Office, Kerry Recreation and Sports Partnership, Healthy Kerry, the Council's Community Unit, Kerry County Museum, and the Kerry Public Participation Network (PPN).
Kerry Events Calendar 
A 'Kerry Events' calendar has been created to capture and share information about events over the coming months and is available on the Tockify platform at tockify.com/kerryevents.
Information will also be available on the council website and social media platforms.
Kerry County Council, Cathaoirleach Cllr. Patrick Connor-Scarteen urged people to engage with the Keep Well campaign.
Engage With Initiatives 
"We continue to learn how to live with the corona-virus pandemic and part of that is doing everything we can to look after ourselves and others and to keep well during the prevailing restrictions.
"A huge amount of work is being done by Kerry County Council and other partners to support individual and community resilience at this challenging time and I would encourage everyone to engage with the various initiatives and campaigns being run over the coming weeks and months," he said.

You can contact The Maine Valley Post on…Anyone in The Maine Valley Post catchment area who would like to send us news and captioned photographs for inclusion can send them to: jreidy@mainevalleypost.com
Queries about advertising and any other matters regarding The Maine Valley Post can also be sent to that address or just ring: 087 23 59 467.