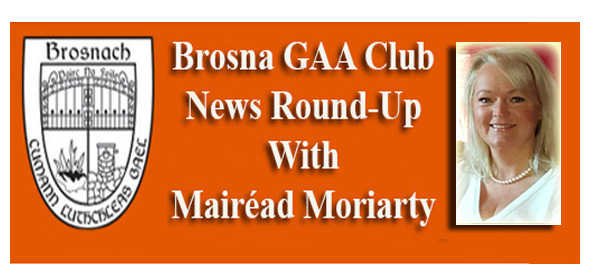 Mass Appeal
As we exit Level 5, Mass will resume again from Saturday night and the usual safety measures are in place with mask wearing, hand sanitising and social distancing. 
Separately, anyone wishing to drop their Christmas dues can do so at Mass time or call to the Sacristy any Friday from 11.30am to 12.30pm.
A special thanks to Fr. Gunn with the able support of Anne and Carl Nash for maintaining the weekly mass broadcasts throughout lock down.
It's wonderful to be able to join the services through the Facebook portal.
Reminder
Saturday, 8.30pm, safely line out in the Village to salute James Doran, European Gold Medal Winner.
With Sympathy
We remember Mary Teresa Cremin, late of Headford, Galway who passed away this week.
We extend our sympathies to her sons Richard, Michael John and Liam and their families.  As well as her brothers Gerry and Mike and all of her friends.
Notes From Abroad
I would be delighted to get any important or quirky news stories from Brosna citizens living around Ireland or abroad.
The Notes are not just about what's happening locally but can be a useful place where we share great stories from our global Brosna community.  Email me on moriartymairead@gmail.com or contact me through Facebook with anything noteworthy.  No matter where you live, you are always part of this great Parish.

You can contact The Maine Valley Post on…Anyone in The Maine Valley Post catchment area who would like to send us news and captioned photographs for inclusion can send them to: jreidy@mainevalleypost.com
Queries about advertising and any other matters regarding The Maine Valley Post can also be sent to that address or just ring: 087 23 59 467.