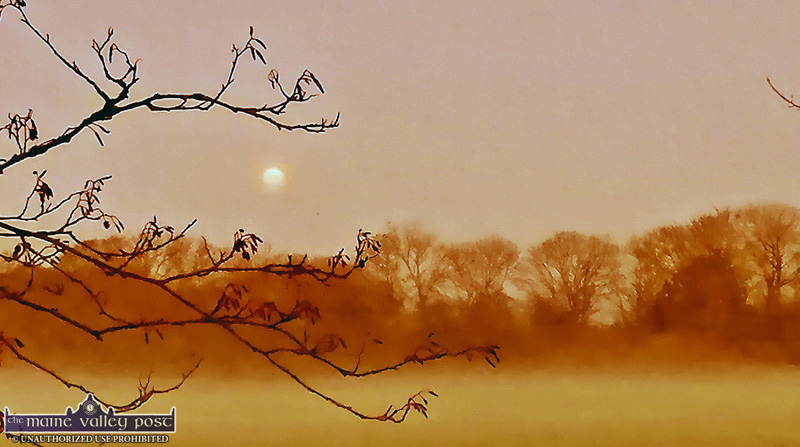 While the weather won't be anything like the dry, cold but sunny few days we've just had the forecast for the coming week isn't that bad either.
We're unlikely to be treated to nature's amazing ability to re-arrange our perception of the countryside around us.
Sunday evening's blanket of fog was one of the finest example of that ability we've seen in years and a show like that is so rare.
There's a full moon tonight but the clouds may spoil the view in these parts. Take a look at the Met Éireann forecast for the week.
Today – Monday, November 30th
Patchy rain and drizzle over much of the country making for a damp, mostly cloudy day today.
However, in general, rainfall amounts will be small. A clearance will develop in the northeast later this afternoon.
Highest temperatures of 10 or 11 degrees, in a moderate westerly breeze.
Tonight
Munster and Connacht will be mostly cloudy with patchy drizzle and mist, and lowest temperatures of 5 to 9 degrees.
Much of Leinster and Ulster will be dry, with clear spells early in the night, and some frost in lowest temperatures of 1 to 4 degrees.
Tomorrow – Tuesday, December 1st
Tuesday will be mostly cloudy with a fair amount of dry weather and just a little patchy drizzle. Some brighter intervals at times too.
Highest temperatures of 8 to 11 degrees in a light westerly breeze.
National Outlook
Tuesday night will be mostly cloudy with rain and drizzle moving eastwards across the country.
Lowest temperatures of 4 to 7 degrees with light to moderate southwest breezes.
Wednesday
On Wednesday morning, rain and drizzle will clear eastwards.
Sunny spells and showers will follow. Showers will develop over the western half of the country during the day. It will become noticeably colder with afternoon temperatures of 5 to 8 degrees and moderate to fresh westerly winds. On Wednesday night, showers will continue and will extend further east, some heavy or of hail. Frost may develop in sheltered areas.
Thursday
Thursday will be cold with sunshine and heavy showers, some of hail and possible thundery and becoming increasingly wintry in the afternoon and evening.
Highest temperatures of 4 to 7 degrees with moderate west to northwest winds. On Thursday night, wintry showers will affect western coastal counties. Many areas will be dry with clear spells and a sharp frost with icy patches. Lowest temperatures of -3 to +1 degrees.
Friday
Friday will continue cold with heavy showers or longer spells of rain moving southwards over the country.
Some of the showers will be wintry with a risk of hail and thunder. It will also become windy with fresh to strong and very gusty north to northwest winds, strongest along west and north coasts. Highest temperatures of 4 to 7 degrees. On Friday night, there'll be further showers, but clear spells also and with frost in places. Lowest temperatures of -1 to +2 degrees with northerly winds decreasing moderate to fresh.
Saturday
Saturday will continue cold with sunshine and showers, some of hail or thunder.
Highest temperatures of 4 to 7 degrees with moderate northeast winds. Saturday night will be cold with a sharp forts and icy patches. Lowest temperatures of -3 to 0 degrees.
Sunday
Sunday will bring sunshine and some further showers.
It will be cold with highest temperatures of 4 to 7 degrees and with frost at night.

You can contact The Maine Valley Post on…Anyone in The Maine Valley Post catchment area who would like to send us news and captioned photographs for inclusion can send them to: jreidy@mainevalleypost.com
Queries about advertising and any other matters regarding The Maine Valley Post can also be sent to that address or just ring: 087 23 59 467.