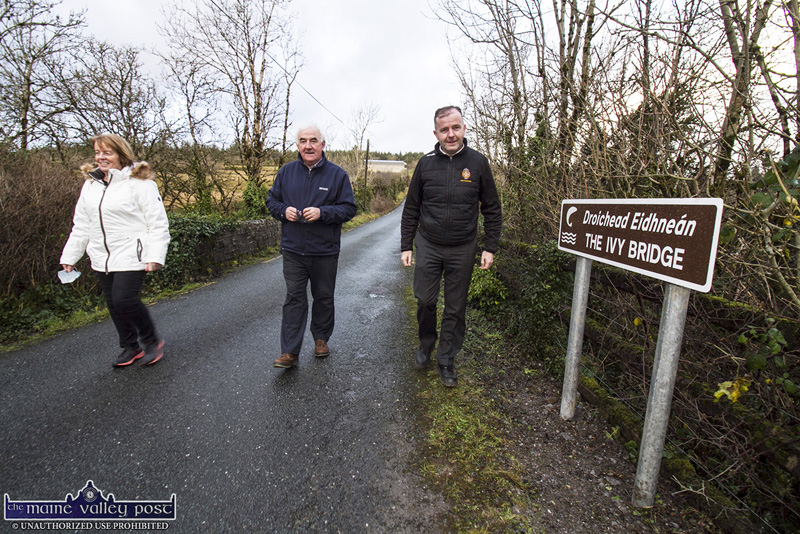 The Lyreacrompane Heritage Group is delighted to see its project recognised and having heritage signs erected at three of the local bridges completed last week. 
The group wishes to thank Kerry County Council for agreeing to the project and Cllr. Charlie Farrelly and Cllr. Fionnán Fitzgerald who helped to fund the signs from their allocations.
Oldest of its Kind in Lyre
The Ivy Bridge is the oldest of its kind in the area with the foundations estimated locally to be dating back to the mid-1700s according the heritage group member, Joe Harrington.
Whatever about its vintage, its fame was assured the day a young John B. Keane set foot on the road over the bridge for a summer holiday with his cousins the Sheehys.
A More Modern Design
"The Lyreacrompane Bridge is of a more modern design from the late 1950s when it replaced an earlier narrow humped-backed bridge.
Earlier maps show a ford at this location in the 1840s. The Smearlagh Bridge near the Post Office was built in the 1890s," said Joe as he welcomed Cllr. Farrelly and Cllr. Fitzgerald to Lyre on Saturday where they inspected the results of their funding.

You can contact The Maine Valley Post on…Anyone in The Maine Valley Post catchment area who would like to send us news and captioned photographs for inclusion can send them to: jreidy@mainevalleypost.com
Queries about advertising and any other matters regarding The Maine Valley Post can also be sent to that address or just ring: 087 23 59 467.