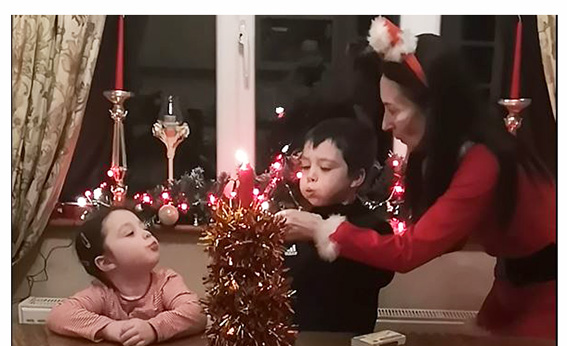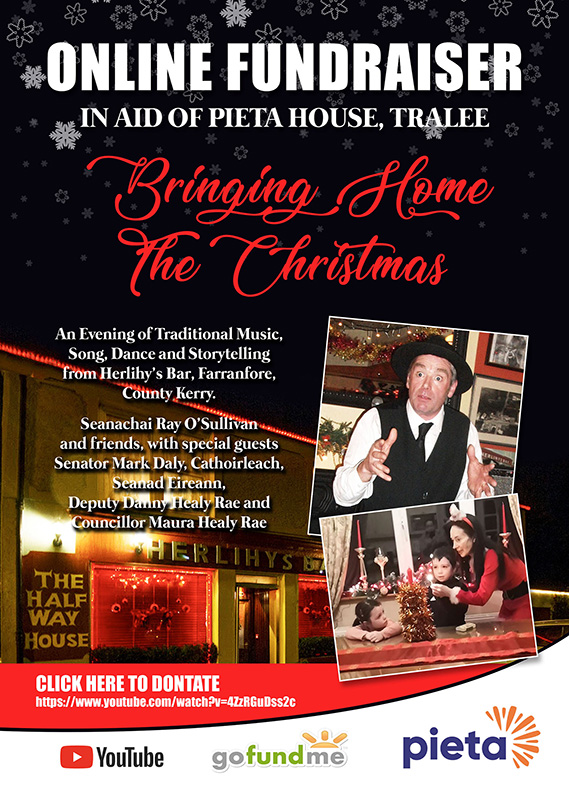 Bringing Home, The Christmas: An Evening of Traditional, Music, Song, Dance and Storytelling from Herlihy, Farranfore
The year 2020 has been like no other in any of our lifetimes, or indeed thankfully in many lifetimes. It has been a year when the world ground to a halt and loneliness and isolation enveloped us all like a pall.
By: Marie O'Sullivan
In an effort to end the year on a somewhat lighter note and raise funds for Pieta House, Tralee, 'Maura's Rambling House,' has come alive again albeit virtually and online from Farranfore!
All the 'usual suspects', and a few new ones have been 'rounded up' for an evocative evening of traditional music, song, dance and storytelling, all courtesy of YouTube.
'On Air' from December 22nd.
The video, which went live yesterday on December 22nd is now available to view and for donations on the YouTube link below and until the end of January 2021 and beyond as long as donations continue to flow through the GoFundMe page.
Those participating in this very special online Christmas Rambling House range in age from just three years old – 90 years young!
The List is Endless
They include Seanchaí Ray O'Sullivan and daughter Lauren, the Evans family: John, Sheila, Sean, Bridann, Tadgh together with their uncle Timmy from Keel, Castlemaine; Bríd O'Shea, Farranfore and her brother Mícheál – online from Mexico! Nancy O'Connor, Currans; Kirril and Michael Healy, Kilcummin; legendary box player Mike Brosnan, Muckross; Anne Marie Nelligan, Currow; Tony O'Brien, Firies; Michael Allen, Tipperary; Diarmuid and Orna Keane, Farranfore and Special Rambling House guests include: Senator Mark Daly, Cathoirleach, Seanad Eireann; Deputy Danny Healy Rae and Councillor Maura Healy Rae.
Behind the Scenes
Behind the scenes, Currow native, Robert McGuire has done trojan work on the production of the YouTube video.
He has put together a wonderful two-hour musical extravaganza for you all to enjoy, over Christmas and the New Year.
A magnificent digital poster was created by Catherine Teahan (ctdesign), Caragh Lake.
This poster features a beautiful photograph of Herlihy's, taken by John Reidy on the night, when Marie O'Sullivan pulled the last pint, on Women's Christmas 2017, in the public house owned by her family since 1912.
Phoenix Like Re-Emergence
All was not lost however, as in 2018 like the Phoenix it re-emerged from the ashes as quirky self-catering accommodation.
All the performers, behind-the-scenes people and Marie would like to dedicate this 'Rambling House' to all those who have died during the current pandemic, those who have been ill during this and those whose lives have been impacted upon in any way in the course of the year.
Thank You
Marie would like to thank all of those involved in bringing Herlihy's alive for this very special fundraising Rambling House and urges everyone near and far to go online, for a 'cracking good show' and to donate as much as you can to Pieta House, via the GoFundMe Donate button.
All proceeds will go directly to Pieta House, Tralee.
Now for the Show which you can see with a click on the link here:
https://www.youtube.com/watch?v=4ZzRGuDss2c      The GoFundMe page can be reached with a click on the link here: : https://gofund.me/dbc70b97

You can contact The Maine Valley Post on…Anyone in The Maine Valley Post catchment area who would like to send us news and captioned photographs for inclusion can send them to: jreidy@mainevalleypost.com
Queries about advertising and any other matters regarding The Maine Valley Post can also be sent to that address or just ring: 087 23 59 467.