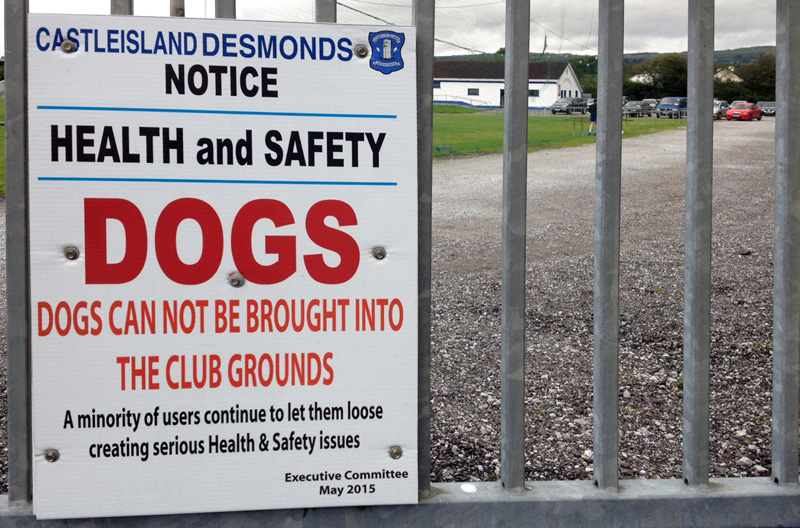 I got the following appeal from a local woman in the Pound Road area who appears to be at her wit's end with dog owning people who let their pets soil the footpaths in her area on an ongoing basis.

She was hoping I'd write a piece on the perennial topic but her own words from her own heart, from her own pen are inked by anger and frustration at the ongoing problem as she sees it.
She's angry at the ignorance of the people who allow the pets in their charge to soil an area and then they walk away without cleaning up.
The following is her appeal:
You Can't Blame the Dogs – It's Their Owners
"I'm writing wondering if you could write a little piece about dog owners and the amount of dog poo they leave everywhere.
I literally can't step out of my house without me and my family trying to dodge the dog poo, on the public pavement outside my house.
You can't blame the dogs it's their owners. Most of the people don't even live up this way they come from everywhere else.
Kerry County Council Signs
I'm not saying all of them but most of them have chosen to have a dog but they don't want to pick up after their dogs.
If they can't pick up their dog's poo they shouldn't have a dog.
I think Kerry County Council should be putting up signs and anyone who doesn't pick up after their dogs should be fined heavily.
Path in Disgusting State
Maybe then they will think twice about doing it again because the path outside my house is absolutely disgusting, if you could please leave my name out of it I would appreciate it – thank you in advance."
Dog Fouling and The Law
Under Section 22 of the Litter Pollution Act 1997, it is an offence to allow a dog under your control to foul a public place.
As the owner or person in charge of the dog you are required under this law to remove dog faeces and dispose of it in a suitable, sanitary manner.

You can contact The Maine Valley Post on…Anyone in The Maine Valley Post catchment area who would like to send us news and captioned photographs for inclusion can send them to: jreidy@mainevalleypost.com
Queries about advertising and any other matters regarding The Maine Valley Post can also be sent to that address or just ring: 087 23 59 467.