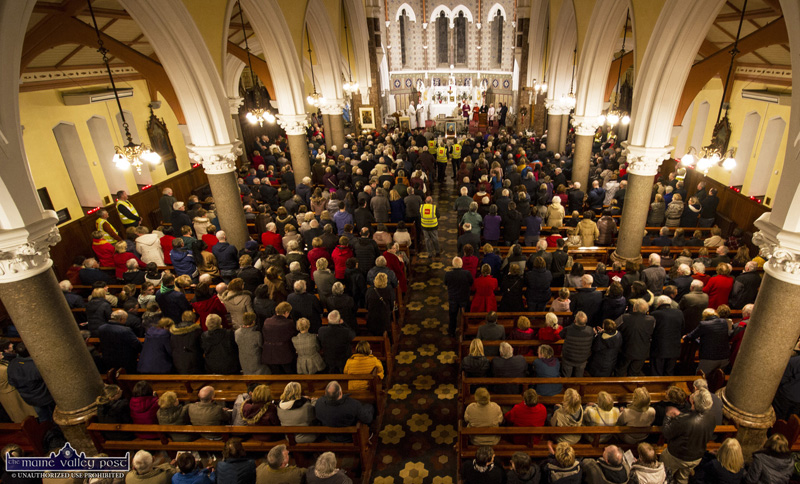 It all seems like something from a different world now, but, 12 months on from the first Padre Pio devotions here in Castleisland, it's getting increasingly so.
Back then on Tuesday, January 7th over a thousand people filled every seat and occupied every square inch of every floor tile in the Church of Saints Stephen and John as Fr. Mossie Brick unveiled his devotion and introduced St. Pio / Padre Pio to his Castleisland parishioners and so many visitors.
Some Sort of Magic
There was some sort of magic in the air on that fine winter's night as Church Street became increasingly busy.
A huge team of yellow vested volunteers stood out from the crowds they helped and advised people on their way to the church and directed them to seats inside.
Demand soon outstripped supply and it was a case of standing room only well before Fr. Brick took to the altar and unveiled the programme for the evening.
Captured for RTÉ News
RTÉ sent its southern correspondent Paschal Sheehy and a film crew to capture the remarkable happenings in Castleisland on that evening.
That evening was to be the first of many – but even then there were straws in the wind – and Fr. Brick was the first to grasp the unfortunate trend the year was about to embrace.
In the course of the evening, the levels of coughing in the congregation was very noticeable and even remarkable.
Thumbs Up from Fr. Brick
And Fr. Brick did remark on it when he sensibly advised his people to take the option of giving a thumbs up instead of a handshake during the 'Peace be with You' part of the ceremony.
Big crowds followed on the first Tuesdays of February and March.
However, by then the news was darkening from the east and the reality we're all too aware of now was rapidly dawning.
From the first Tuesday of last April on, the Padre Pio devotion nights have been streamed online and without a congregation.
Witness by Catriona and Jayden
And so it will be on this Tuesday night, January 12th at 7:30pm.
There is a connection to the opening night of last January in that the witness for tomorrow evening will be given by former Castleisland resident Catriona Foley and her son Jayden from Farranfore.
Their story is a remarkable one of faith and healing from the brink of loss in a hospital in Dublin and a glove of Padre Pio which left medical specialists genuinely baffled.
Jayden Weighed Just Two-and-a-half Pounds

Jayden Foley weighed in at a mere two-and-a-half pounds when he arrived 14 weeks early in hospital in Tralee just a week before Christmas Day in 2008.
He was immediately sent to Dublin as complications, including the dreaded meningitis, beset him.
"I'll never forget that week up to Christmas and St. Stephen's Day was worse," said Catriona after last year's first night.
Healing Glove Presence
The world-renowned Padre Pio's healing glove will be on the altar for the devotions and there will be a general blessing with the glove at the conclusion of the ceremony.
Live Stream Broadcast Link
Padre Pio Devotions will be broadcast live without a congregation and you can tune in by clicking on the link here: www.churchservices.tv/castleisland
If you'd like to read Catriona and the now 12 year old Jayden's story you can with a click on the link here: http://www.mainevalleypost.com/2020/01/15/miracle-boys-phone-reunion-with-capuchin-who-saved-his-life-with-healing-glove/

You can contact The Maine Valley Post on…Anyone in The Maine Valley Post catchment area who would like to send us news and captioned photographs for inclusion can send them to: jreidy@mainevalleypost.com
Queries about advertising and any other matters regarding The Maine Valley Post can also be sent to that address or just ring: 087 23 59 467