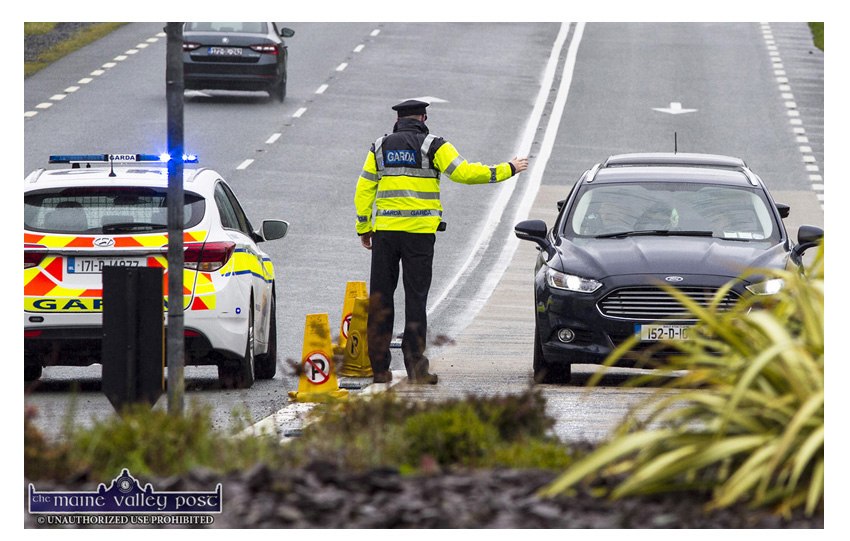 Kerry Gardaí are continuing with the OperationFanacht checkpoints throughout the county.
On Thursday at a checkpoint at Castleisland, Kerry Roads Policing Unit arrested a man on suspicion of drug driving.
A quantity of suspected cannabis and cocaine was found in the car.
Unnecessary Journeys
Close to 1,000 fines have been issued for non-essential travel by An Garda Síochána as the clampdown on unnecessary journeys gets serious.
Members of the public are advised to plan their weekend activities in accordance with public health guidelines.
The 5km limit includes distance travelled from your home to exercise location and all adults in a vehicle or group in breach of non-essential travel regulation can be fined.
Fines Being Processed
Since their introduction on January 11th. 2021, An Garda Síochána has, of close of business on January 21 2021, issued 771 fines for non-essential travel.
In addition to the 771 fines for non-essential travel, approximately 200 fines are currently being checked and processed.
Public Amenity Patrols
Last weekend, over 300 fines were issued for suspected breaches of the public health regulations related to non-essential travel.
An Garda Síochána will be continuing its series of checkpoints and high visibility patrols at public amenities across the country this weekend in support of public health regulations.

You can contact The Maine Valley Post on…Anyone in The Maine Valley Post catchment area who would like to send us news and captioned photographs for inclusion can send them to: jreidy@mainevalleypost.com  Queries about advertising and any other matters regarding The Maine Valley Post can also be sent to that address or just ring: 087 23 59 467.