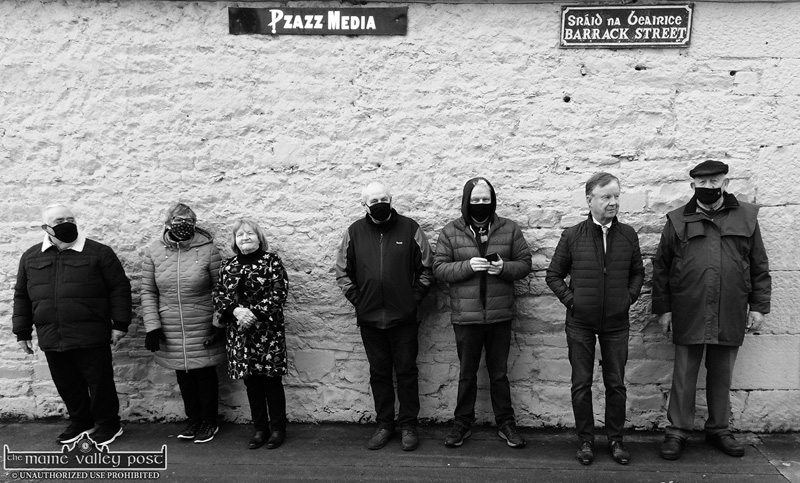 It was with great sadness that the district of Castleisland heard of the death of Jack O'Connor.
Jack (75) was like a breath of fresh air as he walked through the streets to Barrack Street, always smiling and cheerfully saluting everybody. He knew everyone and everyone knew him.
He was born in the Latin Quarter – as Connie Houlihan christened Barrack Street and the surrounding area. His father Jim and his mother Eileen McCarthy were well known people and had five children, two girls, Peggy and Marie, and three boys Jack, Donal and James. They all become involved in the community in different ways.
Favourite Past-times
Growing up our favourite pastimes were playing football on the street, handball, fishing, hunting and raiding orchards.
The latter three were a source of healthy food: fish, rabbits and fruit!
Raiding orchards was a risky sport at times and it was on one such occasion that Jack discovered he could outrun everybody despite the inconvenience of a heavy bag.
A Marathon Runner
Thus was born a marathon runner, 'Cad a dheanfaid mac an chait." Jack inherited this from his father Jim, who was a well known distance runner and had a tremendous interest in sport. He was delighted to see all his children getting involved. Jim trained the Castleisland football team to win their one and only county championships in 1950.
Jack began his working life with a chicken hatchery, thus the name stuck. Everybody had a nickname (even myself 'Flash'!)
School Bus Driver
He spent many years driving school buses and thus got friendly with many of the younger generation and their parents. He also worked in the River Island hotel.
During all this time Jack trained everyday and began to increase the number of marathons he was running. I had the pleasure of training for and running a few marathons with Jack.
We ran hundreds and hundreds of miles together and he was tremendous company.
Deeply Religious
During all this time he never complained but enjoyed every step he took and thanked God that he had the energy and health to do it.
Jack was deeply religious and had a wonderful love for his father and mother, brothers and sisters. I never heard a bad word uttered by Jack – he only ever wished he best to everyone.
The Wedding in Tipperary
Eventually he met Mary and before long marriage was in the air.
As the wedding was in Tipperary, a Latin Quarter bus was hired and we had a never to be forgotten day out.
Jack continued to do marathons but with the arrival of his two beautiful daughters who he adored (Tara and Orla) he spent more time with them.
Twenty Dublin Marathons
By the time he called it a day he had completed the first ever Dublin marathon and was one of very few people who had gone on to complete a total of 20 Dublin marathons – what an achievement!
Unfortunately Jack got cancer and he bore his suffering with great equanimity.
He was fortunate to be looked after by two nurses, his wife Mary and his daughter Orla, who is now a nurse in UHK.
Devotion to Padre Pio
What few people realize is that Jack suffered for the three years and also had several operations. Again, he never complained and suffered on silently.
His last outing was to the church to visit the statue of Padre Pio to whom he had great devotion.
I met him on his way out of the church and asked him how he was. His answer was 'absolutely fine' – he passed away three days later.
Big Turn-out
The big turnout for Jack's last journey bore testimony to the high esteem in which he was held by all.
To Donal, James and Peg, his brothers and sister, to all his nephews and nieces, but especially to his loving wife Mary, his daughters Orla and Tara, and his much loved grandchildren, our deepest sympathies and condolences.
I am expressing this on behalf of neighbours, friends and the people of Castleisland.i
Ar dheis lamh De go raibh a anam naofa. – Denis Brosnan.

You can contact The Maine Valley Post on…Anyone in The Maine Valley Post catchment area who would like to send us news and captioned photographs for inclusion can send them to: jreidy@mainevalleypost.com  Queries about advertising and any other matters regarding The Maine Valley Post can also be sent to that address or just ring: 087 23 59 467.