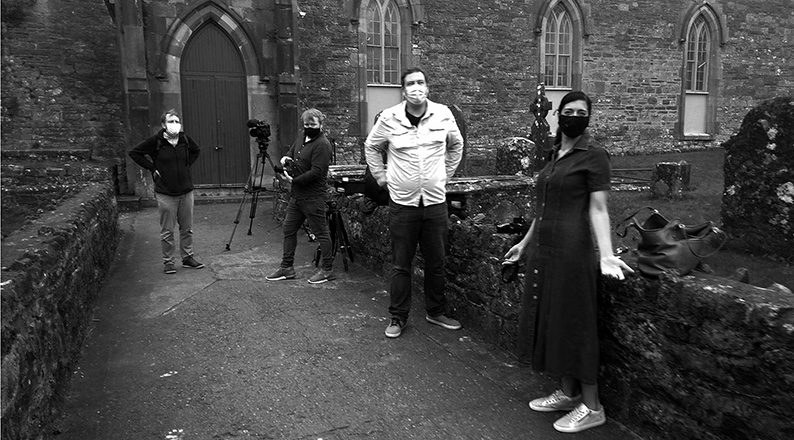 On tonight's Eco Eye programme on RTÉ One at 7pm, 2010 Rose of Tralee and clinical psychologist, Dr. Clare Kambamettu will examine where the real danger of radiation exposure lies in Ireland today.
In the programme titled, Radiation: The Silent Killer, Dr. Clare will also debunk some surprising myths about the threats posed by radiation. 
These are known only too well to residents of the limestone rich areas around Kerry and, it seems, Castleisland in particular.

Above National Reference Levels
Back in 2002 Castleisland was dragged under a national spotlight when radiation readings in one particular town-land were found to be well above the national reference and safety levels.
Public meetings were arranged and packed as a genuine fear of this unknown quantity stalked hill and valley.
Castleisland's history of quarrying activity and its bountiful supply of and demand for limestone was repeatedly mentioned.
Blasting, Fracturing or Fissuring
The blasting and drilling needed in the quarrying process and the resulting fracturing and fissuring of the limestone layers were mooted as causes of conveying and releasing the deadly gas into homes in the area.
The majority of the people who went to the meetings left as wise as they arrived as there was no known method of grappling with this potential killer which is, we were told, measured in becquerels, is colourless, odourless, silent and deadly.
Previously Unheard of Threat
The meetings also heard that old homes, which were insulated and had new windows and doors fitted and ceilings and roofs sealed against draughts, could now prove to be death traps as this previously unheard of threat thrived in these conditions.
While most houses built since those days would have had radon barriers fitted there are still many refurbished houses in the area which do not have that protection.
Causes and Effects of Radiation
While tonight's programme looks at the various causes and effects of radiation in Ireland today, can it provide comfort or good news for people worrying about the type we came to know as the 'silent killer' at those early days meetings of 2003?
How Much Radiation is Dangerous?
"How much radiation is dangerous? Dr. Clare explores radiation exposure in Ireland debunking some surprising myths and she'll uncover where the real danger lies and what we can do to protect ourselves," according to the programme makers.

"So while Clare does go on this journey looking at radiation in general, once she learns that our greatest radiation exposure in Ireland actually comes from a natural source (radon) the rest of the episode is entirely on radon and we're in Castleisland first with PHD researcher, Meabh Hughes who has been examining the radon levels in Castleisland over the years. 
A Fix for Old Houses
"For old houses there's a short piece with footage from when the presenter, Dr. Clare Kambamettu had her own experience of living in and fixing her house that had a high radon level. She explains it was an easy fix and done all from the outside. 
"Then we also interview Eugene Monaghan from All Clear Radon who is working on how best to protect new homes from Radon Gas that goes beyond the radon barrier and there is some really interesting initial results from their research project."

Tune in to Eco Eye on  RTÉ One television tonight at 7pm.

You can contact The Maine Valley Post on…Anyone in The Maine Valley Post catchment area who would like to send us news and captioned photographs for inclusion can send them to: jreidy@mainevalleypost.com  Queries about advertising and any other matters regarding The Maine Valley Post can also be sent to that address or just ring: 087 23 59 467.