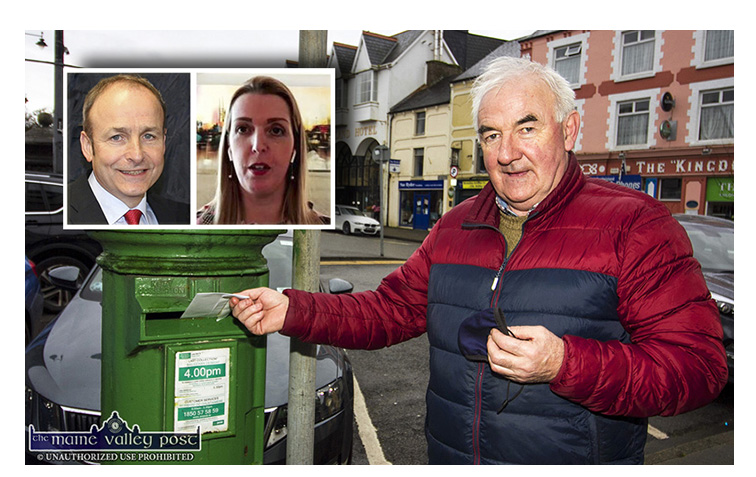 The call to have women's health campaigner and champion, Vicky Phelan to present the traditional Waterford Glass Bowl of Shamrock to President Joe Biden in the White House on St. Patrick's Day is now beginning to take legs in America.
The campaign, which has been pushed here in Ireland by independent members of various county councils, has also been taken up by Cllr. Charlie Farrelly here in Castleisland.
Shameless Failure
The local campaign has two main points. One is to honour the courage and leadership shown by Ms. Phelan in her own fight and that on behalf of Mná na hÉireann against the system which has shamelessly failed so many of them over the years.
We're still seeing evidence of this failure on the steps of courthouses as more strong, grievously wronged women emerge after protracted battles to secure the futures of children they fear they won't see growing up.
Travel Restrictions
Point two of this Bowl of Shamrock campaign is based on current travel restrictions and on the need for examples of firm leadership.
The point is being made that politicians and Taoiseach Micheál Martin should absolutely not travel to America or anywhere else on St. Patrick's Day and thereby set a milestone example for all.
Cllr. Farrelly actually posted a letter to An Taoiseach on Monday expressing these very sentiments and urging him to do the right thing and, in short, to practice what he preaches to the rest of us.
Vicky Willing and Able to Go
And, it was a big week for the campaign: So fittingly, on St. Brigid's Day, Vicky Phelan tweeted that she'd be honoured and very willing to represent Ireland and do the Bowl of Shamrock gig at the White House on behalf of Irish people all over the world.
"That's the first I've heard of it….BUT I certainly wouldn't say No if I was asked. It would be an honour," she tweeted.

Letter from America
Then, Cllr. Farrelly got an Email from a family in the USA wondering what they can do to get Vicky to the White House on St. Patrick's Day.
Cllr. Farrelly's transatlantic Email goes as follows:
"Charlie my name is Mairead Shiel and I live in Monroe, New Jersey, USA.
I was born and raised in Gort, Co. Galway – where my family still lives.
I saw your email on fb. We have to get this lady (Vicky Phelan) to the white house.
My husband and I spent a weekend with her after she  arrived in the USA.
We never met her before but I sent her an email and asked her if we could cook meals for her and for her to put in her freezer and that's what we did for this beautiful lady.
We drove three hours and booked in and met Vicky for both nights. Can you tell me what I can do to get this escalated. There has to be something. Also please feel free to call me."

You can contact The Maine Valley Post on…Anyone in The Maine Valley Post catchment area who would like to send us news and captioned photographs for inclusion can send them to: jreidy@mainevalleypost.com  Queries about advertising and any other matters regarding The Maine Valley Post can also be sent to that address or just ring: 087 23 59 467.