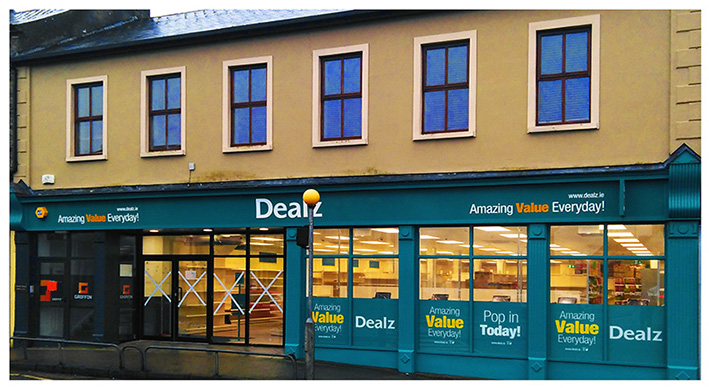 The town of Castleisland and its chequered commercial history is about to take another lurch in the chain-store direction with the opening, on this Tuesday morning, of Dealz Castleisland.
Setting up its local empire in the shadows and within the old walls of the establishment in 1226 by the town's most infamous invader, Geoffrey de Marisco, Dealz Castleisland pledges to bring shoppers amazing value, hygiene and safety as the new store stocks the kind of everyday essentials any community would wish for.
Opening Delayed by Covid  
Ireland's largest discount retailer will finally be able to open its new store in Castleisland, on Tuesday, February 9th after a short delay caused by Covid restrictions.
At nearly 4,000 sq ft, the store on 6 to 8 Castle Street / Killarney Road and within the Latin Quarter will be Dealz' fourth store in Kerry and its 77th in Ireland. It will employ 20 staff. The manager will be Michael Devlin who has been at Dealz for seven years and is moving from the Tralee store.
Own-Label Products
"Customers will be offered a wide range of well-known brands and Dealz own-label products at amazing value, from everyday essentials to health and beauty, as well as seasonal ranges including home décor and gifting," according to the release sent out at the weekend.
"We're delighted to be finally launching our new store in Castleisland this week – we're committed to the communities of County Kerry and we're proud to be in a position to be opening stores and creating jobs. We're looking forward to opening our doors next Tuesday," said Dealz Country Manager Trading, Sharon Sheridan.
Cllr. Jackie's Take on Dealz
"I am delighted to see Dealz opening a new store in Castleisland," Independent Councillor Jackie Healy-Rae.
"We need businesses to invest in the town, to provide employment and bring back into use our vacant premises, so this is and should only be seen as a huge positive for the town of Castleisland. Covid-19 has brought such doom and gloom to our county and country over the last 12 months especially for businesses, so to see something new opening is brilliant and I have no doubt it will get the support it deserves. I wish the management and staff all the very best of luck in the future with their new premises," he said.
Official Guidelines on Distancing and Masks
Dealz has operated as an essential service through Covid-19, providing support to local communities across Ireland.
Like all Dealz stores, Castleisland will operate to the highest standards of hygiene and safety, including barrier screens at checkouts and thorough cleaning regimes applied across the day. Customers are asked to observe official guidelines on social distancing and wearing masks.

You can contact The Maine Valley Post on…Anyone in The Maine Valley Post catchment area who would like to send us news and captioned photographs for inclusion can send them to: jreidy@mainevalleypost.com  Queries about advertising and any other matters regarding The Maine Valley Post can also be sent to that address or just ring: 087 23 59 467.