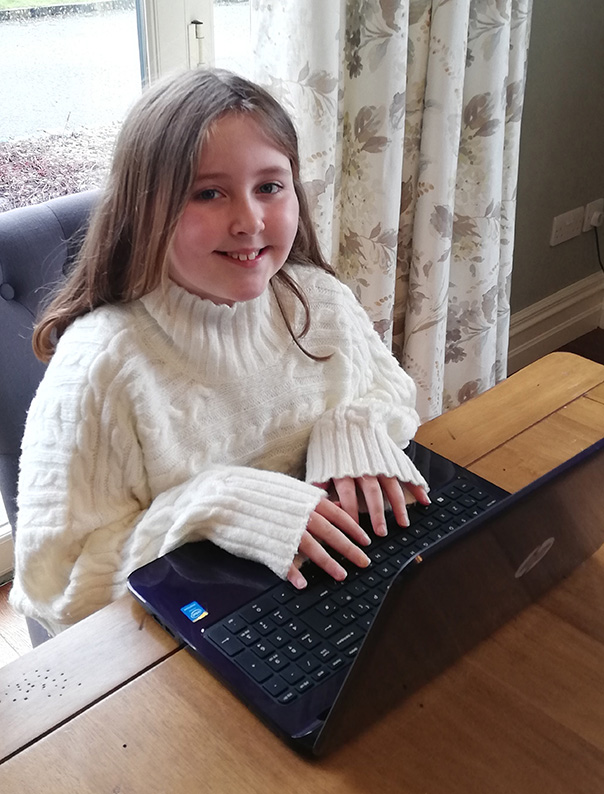 Castleisland's newest school principal, Seamus Moynihan suggested a few weeks ago that we could run with accounts of living with lock-down from the points of view of his pupils at Scoil Muire gan Smál. 
Parental consent has been granted and, as you'll see from the headline, Chloe McElligott's account is the first of the three we have to date.
Others from Grace McGovern, sixth class and Ryan Whelan, first class will follow over the next couple of days.
Meanwhile, here is Chloe's account:
When I came back to school in September after the first lock-down I thought it was all over. Fortunately we were all back to school and we were doing work again. It was good to see all my friends too.
By: Chloe McElligott
When the Halloween break came around we were told to bring home our books because in the first lock-down we did not have any.
It was all normal until Christmas holidays but then Covid-19 got worse and we were back in lock-down again.
Way Harder Work
I thought this lock-down would be the same but it is not. We have way harder work.
At first I was excited to be at home and have freedom but then I realised I had not seen my friends in forever and I really missed them.
Initially we had prerecorded video lessons and then we started Zoom classes. It was not what I expected but it was so much fun and I get to see all my friends and Ms.O'Mahony.
Homework in the Morning
Everyday I get up early and do my homework in the morning. When I wake up I am really not excited for Irish but I am always looking forward to maths.
School work is fine as long as I do not have too much writing. When my homework is finished I have lots of time to play with my new baby brother.
Lockdown is Great But….
He is only five months and I love playing with him. I also like to play video games and I play outside with Alice.
Last lock-down my auntie lived with us but she can't this time. She has her own classes to teach, you see she is a secondary school teacher.
A good thing about lock-down is that I get to see my Mom, Dad and Nana more. It is great.
Lock-down was a great experience for us but I hope it will be all over soon.

You can contact The Maine Valley Post on…Anyone in The Maine Valley Post catchment area who would like to send us news and captioned photographs for inclusion can send them to: jreidy@mainevalleypost.com Queries about advertising and any other matters regarding The Maine Valley Post can also be sent to that address or just ring: 087 23 59 467.