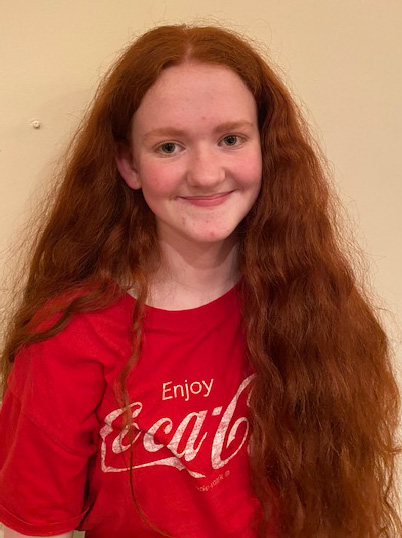 Hello, I'm Grace McGovern. 
I'm 12 years old and I attend Muire Gan Smál, Castleisland.
Like so many other kids and teenagers, I'm learning from home, doing zoom calls and it can get frustrating at times but it's OK overall.
I do my school work everyday,with project work every once in a while, which I enjoy working on.
I join my Zoom class and we go over all our class work for the day, then later I finish the rest of my work and send it to my teacher through Seesaw.
All New to Me, But….
It's all new to me but I've learned to adapt to things pretty quickly now, with all the changes that have been happening. But there's still a few things that catch me by surprise.
March last year Covid-19 had just hit Ireland and started to affect our everyday lives.
Then a few weeks later when we went into our first lock-down, I knew that mine and everyone else's everyday lives were going to change drastically because we couldn't see our friends, grandparents and cousins.
Restrictions And Change
We were unsure of what to do and how to live our lives with all the restrictions and changes the government brought in. Now after all the lock-down challenges we've had, we know how to cope with it better this time round. 
As a sixth class pupil I can definitely say that this is not one bit what I expected or wanted.
I was expecting to be able to do all the jobs that we would usually do and all the extra activities we would take part in at school.
Really Miss My Friends
I really miss all my friends and all the fun activities we usually do at school like drama, PE and music, which were always enjoyable, especially with our teacher Mrs. Smith.
Then another lock-down came along and we couldn't do any of these things.
Instead we have to home-school and stay at home unless we really have to leave but we've made it work.
Breakfast and Maths
My daily lock-down days are usually all the same: I wake up, then I get breakfast and start my maths work, while my brother and sister are on their zoom classes.
Then an hour or so would go by and I take a break eat my lunch and watch some television.
I would continue with my work and I would join my own zoom call, where we talk and catch up for a few minutes, and then we start going through our daily work load.
I usually try to go on a walk or cycle with my dad and sister, if it was dry.
Other Things That Help
Some other things that are helping me get through lock-down are watching movies, reading, keeping creative and just keeping active but there's still that little bit of boredom that creeps into my life everyday as well.
I enjoy having some time to myself everyday and texting some of my friends and talking about things that only we would laugh at or understand, but it's still not the same as seeing them in real life which I really can't wait to do.
Lock-down is still awful and boring but now the vaccines are coming and we'll be back to normality eventually.

You can contact The Maine Valley Post on…Anyone in The Maine Valley Post catchment area who would like to send us news and captioned photographs for inclusion can send them to: jreidy@mainevalleypost.com Queries about advertising and any other matters regarding The Maine Valley Post can also be sent to that address or just ring: 087 23 59 467.