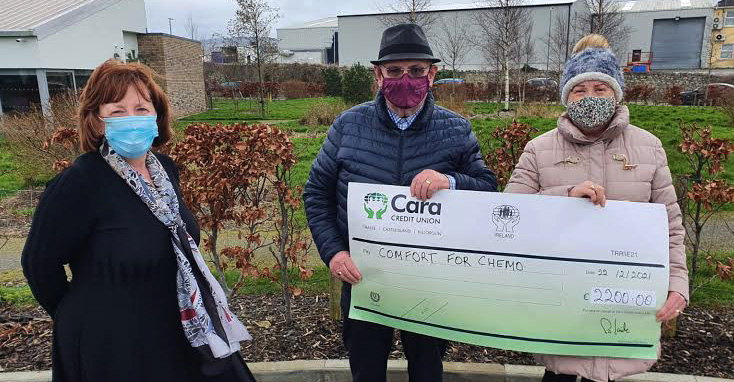 In the run-up to a Christmas which promised little, the Headley's Bridge promoters of an annual charity crib collection wondered if they should continue with their decade long, seasonal tradition.
Eileen and Thomas O'Connor of 'The Bridge' were encouraged by neighbours and friends to carry on in spite of the cloud which hung over Christmas.
They assembled their considerable crib and lights beside their house and set out their 2020 stall for Comfort for Chemo – the Kerry based charity – to which they contributed also in 2019.
First Crib in 2012
Eileen and Thomas set up their first crib in 2012 and were please with the €100 they got with little or no publicity.
Because of Eileen's cancer survivor status and her appreciation and gratitude for the help and service she received, the Chemotherapy Day Ward at University Hospital Kerry was their chosen charity.
On their second year's collection a single donation of €100 saw them set a new record the following year.
Teachers and Children Chipping In
The addition of a shopping bag of coins worth €33, local donations and the welcome backing of the teachers and children of Scoil Mhuire in the village brought the 2013 total to €700. And so it has been growing with the passage of years.
Their 2019 collection reached €1,700 and this was presented to Comfort for Chemo at the end of January 2020.
A New Record
The result of their Christmas 2020 collection was considerably boosted by a €500 donation by local man and SSE Airtricity representative, Eamonn Cotter.
This brought them their highest total to date and a new record with a fantastic cheque for €2,200.
The cheque was presented to Mary Fitzgerald of Comfort for Chemo on the grounds of Kerry University Hospital during the week.
"Only for neighbours and friends telling us that we should keep up the tradition last Christmas we weren't sure if we should put up the crib at all," said Eileen.
All Times of Day and Night
"Then we thought that it is not something that would draw a crowd all at the same time and we have people making donations at all times of the day and night.
"We think that people are great in the way they support the collection every year and we appreciate every one of them.
Great Encouragement
"We'd like to thank Eamonn Cotter especially for driving our total past the €2,000 mark for the first time and this has given us great encouragement for the future," said Eileen.
Accepting the cheque at Kerry University Hospital, Comfort for Chemo representative Mary Fitzgerald praised the O'Connors for their continuous fund-raising efforts and support.
All Contributors Thanked
"In thanking Eileen and Thomas," she said, "I'm also thanking all the people who donated to the crib over the years and I'd like to stress how important this source of funding is to us as a charity and how much we appreciate it."

You can contact The Maine Valley Post on…Anyone in The Maine Valley Post catchment area who would like to send us news and captioned photographs for inclusion can send them to: jreidy@mainevalleypost.com Queries about advertising and any other matters regarding The Maine Valley Post can also be sent to that address or just ring: 087 23 59 467.