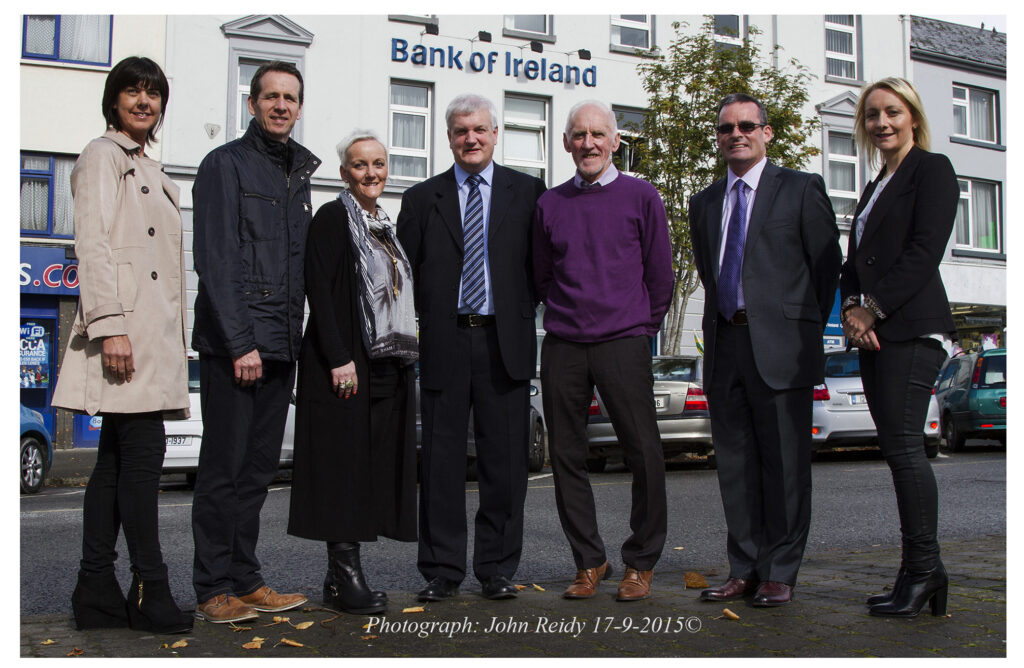 As a harbinger of doom, the straw in the wind is a most dependable messenger.
And so it has been proven here in Castleisland again with this morning's announcement by Bank of Ireland that it's to close 88 of its branches through the country.
In Kerry, the bank has picked on Castleisland, Kilorglin and Tralee IT for its latest hatchet job.
There were fears here in Castleisland following the Covid-19 forced closure in March of last year that it was, indeed, a straw in the wind – but they were just the latest indicators.
Services Most in Demand
Bank of Ireland announced then that it was making changes to its branch network in the Republic of Ireland to ensure its resources are focused on services most in demand during the Coronavirus pandemic.
Four of Kerry's towns were chosen in that temporary move and three of that four have now been culled; Ballybunion has escaped the blunt instrument  and the blow to rural Ireland.
Another Landmark Building Idle
From the point of view of Castleisland and its outlook it means, quite starkly, that there is yet another landmark building facing a bleak future on its main street and that people from this and surrounding areas will have less reason to 'go to town.'
It also means frightful inconvenience for local sports and voluntary bodies in the general Castleisland area with accounts in Bank of Ireland.
Looking at Banking Options
Some of these will have to travel to Tralee to transact their business while others will be looking at the options remaining in the town itself.
It may be of some consolation that the three Kerry town offices chosen for the chop by the Bank of Ireland are all well served by the Cara Credit Union offices and staff.
The straws in the wind began to appear with alarming regularity after the retirement of the affable Paddy Garvey as Castleisland branch manager at the end of May 2017.
Bank's Last Great Hurrah
Paddy Garvey managed the Bank of Ireland in Castleisland through its last great hurrah and, probably, to its highest standing in its history when he and his staff and business representative from the area staged the Bank of Ireland Enterprise Town Expo which packed the local community centre on November dates in 2015 and 2016.
Veering Towards Automation
Shortly after his retirement it was discovered that he was not to be replaced and it was clear that the branch was veering sharply towards automation and well out beyond the technical capabilities of its traditional clientele.
I called into the branch one day after Mr. Garvey's retirement to find out about his likely replacement and was told that there wouldn't be an appointment.
'I'll Ask for You'
On the same day, an elderly gentleman was approached by a member of staff and asked if she could be of help. The man told her what he wanted to do and she obliged with his lodgement in a computerised way.
On completion, she said to him: 'you'll know what to do the next time,' 'I will' he said, 'I'll ask for you.'
This he said without a hint of cynicism or sarcasm but with pure innocence – and probably hope.
Where is he and his equals going to face for now ? And what now for Castleisland and the many rural towns around the country ?
Brass Plates and Insignia
It's not so much the loss of the bank, bad and all as it is, but it's the stain on the fabric of the community and the damage to its morale that will outlive the loss of the Bank of Ireland long after its brass plates and its insignia are unscrewed from its walls and another iconic, Main Street building is divested of its poise and purpose.


You can contact The Maine Valley Post on…Anyone in The Maine Valley Post catchment area who would like to send us news and captioned photographs for inclusion can send them to: jreidy@mainevalleypost.com Queries about advertising and any other matters regarding The Maine Valley Post can also be sent to that address or just ring: 087 23 59 467.