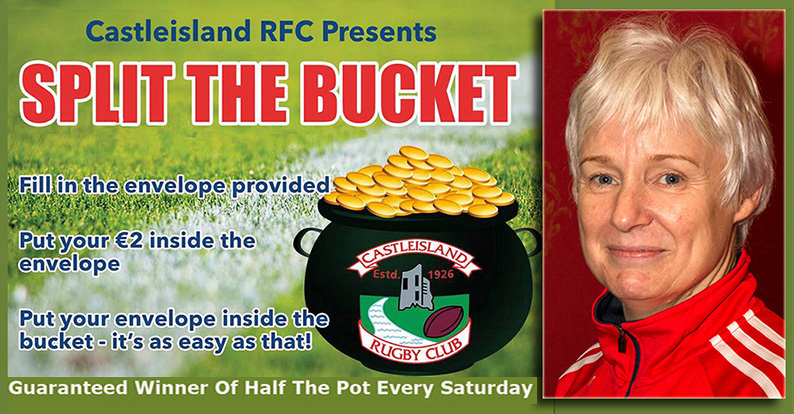 The winner of the Castleisland RFC Split the Bucket draw held in Castlemeats Deli on Saturday, February 27th was Mary O'Connell, Castleisland.
This is Mary's third time winning the draw and Castleisland RFC would like to congratulate her and thank her for her continued support.
The winning amount was €703. The next draw will take place in McCarthy's Foodstore, Currow on Saturday 6th March 6th at 5pm.
At Saturday's gathering, Yvonne O'Connor from Currow was presented with her winner's cheque for €737. Yvonne was an on-line winner and part of a growing trend.
On-line players and winners are becoming a regular feature of the Castleisland RFC Split the Bucket draw in more recent weeks and months.
It is a mark of the club's standing in this and surrounding parishes that it continues to provide prizes in the €700 plus bracket.
This is in spite of the fact that its activities and 'bucket presence' are so curtailed in centres hit by restrictions and outlet closures.
If you'd like to join the growing trend in Split the Bucket on-line entries you can do so with a click on the link here: https://app.superpayit.com/recurring-payment/initiate/iM16Pww/?fbclid=IwAR2o5cnHeUkab1aqHy1iSgQAnddRG8bd-Yp7VDStT1F-nZ6TR7nCPnMbgko


You can contact The Maine Valley Post on…Anyone in The Maine Valley Post catchment area who would like to send us news and captioned photographs for inclusion can send them to: jreidy@mainevalleypost.com Queries about advertising and any other matters regarding The Maine Valley Post can also be sent to that address or just ring: 087 23 59 467.