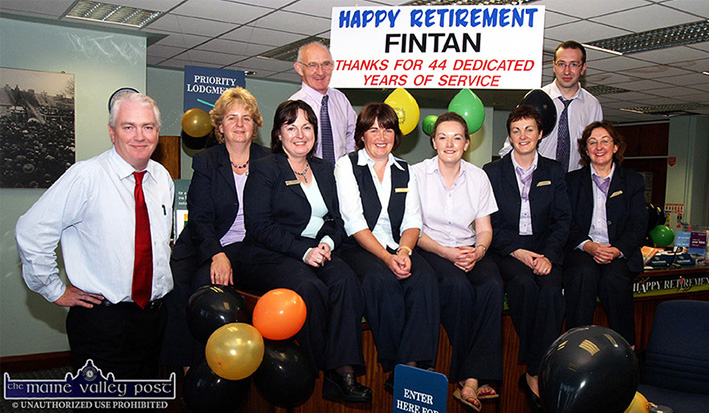 Abbeyfeale Bank of Ireland Closure
Fintan Quirke, the last porter in the Bank of Ireland in Abbeyfeale was in touch to say that the bank arrived in the town in 1876 and was known then as The National Bank. 
By: Marian Harnett
The first porter to work there was Mr. Wren from New Street whose son, Lawrence became the Garda commissioner in the late early 1980s and was involved in several high profile cases.  
Fintan also told me that in the early years of the 20th century the bank had two sub offices in Athea and Brosna. Bank personnel travelled out to both areas by pony and trap carrying the cash box on the floor of the trap! 
Different times indeed. 
Glin Castle Going Green
'St Patrick's Festival 2021 will be marked virtually with an online programme celebrating Limerick's 'Edge and Embrace.
Limerick Tourism's Culture and Arts Department is working in partnership with Fáilte Ireland to light up buildings across Limerick City and county from Saturday, March 13 – 20 inclusive, to celebrate St. Patrick's Day.
Despite the pandemic, the show goes online on St Patrick's Festival TV (SPF TV) at stpatricksfestival.ie from March 12 – 17, offering more than 100 events.
Social Enterprise Development Initiative
Are you interested in developing or expanding your social enterprise? Have you an innovative approach to addressing community needs?
Cooperating to Succeed is an imaginative yet practical programme designed to support social entrepreneurs, providing a year-long training and support package, tailored to your current needs.
For further information please contact kmurray@wlr.ie or 069 66294.
Stations of The Cross on the Radio
The Stations of the Cross will be aired on the Radio 99.9fm every Monday, Wednesday, Friday at 4pm.
The stations are on the radio only, so you can listen from your own homes.

You can contact The Maine Valley Post on…Anyone in The Maine Valley Post catchment area who would like to send us news and captioned photographs for inclusion can send them to: jreidy@mainevalleypost.com Queries about advertising and any other matters regarding The Maine Valley Post can also be sent to that address or just ring: 087 23 59 467.