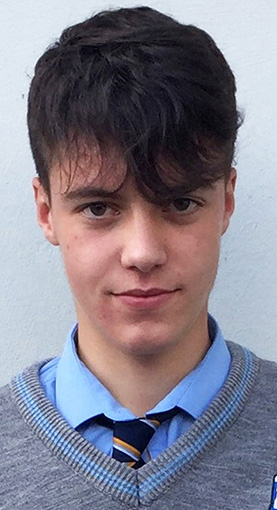 Staff and students at St. Patrick's Secondary School, Castleisland were delighted with the news this week that Luke Walsh, who completed his Leaving Certificate in the last school year, has been awarded the UCC Quercus Entrance Scholarship for the 2020/2021 academic year.
Outstanding Achievement
Luke has been awarded the scholarship based on his outstanding achievement in the 2020 Leaving Certificate.
He achieved 625 points in his Leaving Certificate and is now in UCC studying Mathematical Sciences.
Luke will be presented with his scholarship on March the 30th next by the Interm President of UCC, Professor John O' Halloran at an awards ceremony which will be held virtually.
Well Deserved Award
"This is a well-deserved award for Luke and his family and due recognition for all his hard work during his time in secondary school. We wish him well in his studies," said Principal Denis O'Donovan.

"Luke is the third student from our school who has been awarded an entrance scholarship this academic year.
"Paddy Brosnan was awarded an Entrance Scholarship to UL, Dylan Browne an Entrance Scholarship to NUIG and Luke Walsh to UCC.
"All scholarships are awarded based on the outstanding achievement of these students in their leaving certificate exams," said Mr. O'Donovan.

What is the Quercus Scholarship
The Quercus Talented Students' Programme is a scholarship that supports and promotes excellence in academia, sport, creative and performing arts, active citizenship and innovation / entrepreneurship.

You can contact The Maine Valley Post on…Anyone in The Maine Valley Post catchment area who would like to send us news and captioned photographs for inclusion can send them to: jreidy@mainevalleypost.com Queries about advertising and any other matters regarding The Maine Valley Post can also be sent to that address or just ring: 087 23 59 467.