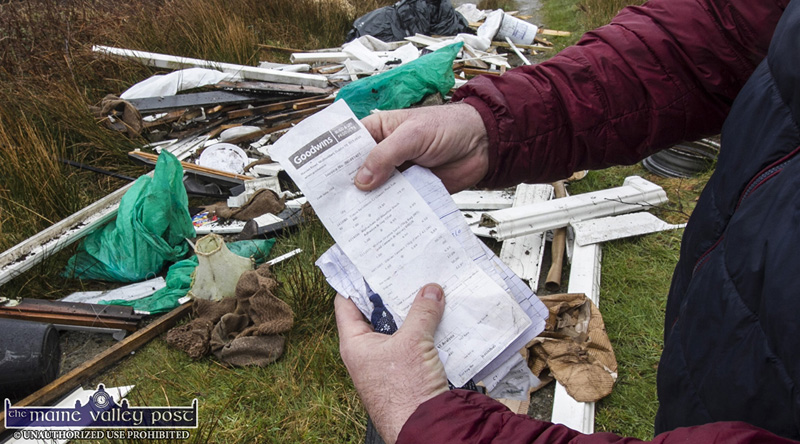 A travelling tradesman, who ventured well beyond his allotted mileage, priced four house reconstruction jobs in one avenue in Dublin, did at least one of the jobs and dumped the left over material on a bog road in Ahaneboy between Castleisland and Knocknagoshel this week.
And all this in a time of lock-down.
The site is in the heart of the kind of countryside that would lift your spirits to walk through and is much used as it's at the centre of turf cutting activity in that area.
Overlooking Castleisland and off to the north-west from Glounsharoon, a series of roads lead to and from the banks of bog there and to a network of wind turbines down south west towards the Stacks Mountains.
God's Own Country
It's God's own country when the fog lifts.
However, one of the roads there is now blocked by the single worst incident of indiscriminate dumping I've ever been called on to photograph.
Among the souvenirs, and the half sheet of plywood and the nine by threes and six by ones and the PVC gutters, down-pipes and cladding, was a notebook and a material receipt from a DIY store in Mulhuddart in Dublin.
Tell-All Notebook
That notebook, which has been handed in to Castleisland Garda station this afternoon, holds the names of the houses in Dublin to which this 'tradesman' called along with a list of contacts and addresses of people from the Castleisland area.
Local man Pa Riordan is a regular walker in the area and he discovered the heap of mainly recyclable timber and plastics blocking the bohereen there and he alerted Cllr. Charlie Farrelly to the site.
DIY Store Receipt
Cllr. Farrelly said that the matter has already been reported to Kerry County Council by his colleague Cllr. Fionnán Fitzgerald while he, Cllr. Farrelly was heading for Castleisland Garda station to hand over the incriminating notebook and Dublin based DIY store receipt containing the list of material.
Judging by the amount of material which was left over and dumped at Ahaneboy, our tradesman's quantity surveyor will be off on his travels fairly soon.

You can contact The Maine Valley Post on…Anyone in The Maine Valley Post catchment area who would like to send us news and captioned photographs for inclusion can send them to: jreidy@mainevalleypost.com Queries about advertising and any other matters regarding The Maine Valley Post can also be sent to that address or just ring: 087 23 59 467.