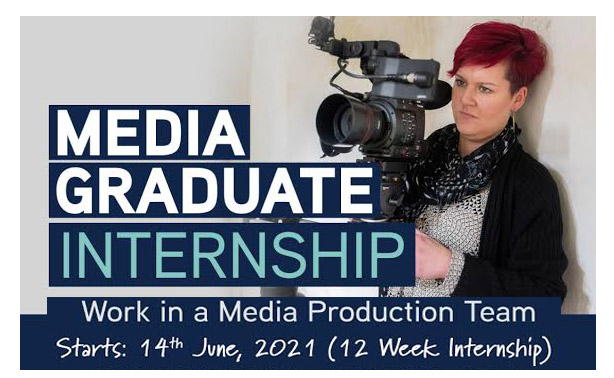 Kerry College of Further Education and Training has announced an innovative Media Graduate Internship which is scheduled to run on-campus in Tralee starting on Monday, June 14th. 2021.
This is an opportunity to gain hands-on experience by working as part of a media production team throughout the summer months in County Kerry.
Working on Creative Projects
It will help graduates build production credits and portfolios of work as they search for work in the sector.
Each intern will work on a variety of creative projects as part of a three-person media production team.
No application fees, tuition fees, examination fees, or certification fees are payable for this internship experience and all equipment will be provided.
Applicants on a qualifying social welfare payment may be eligible for a learner training allowance.
Full-Time Programme
This full-time 12 week programme will run at the Digital Skills Centre located on Kerry College's Monavalley Campus. There are only nine places available and applicants will be required to attend an on-line interview as part of the recruitment process.
Applicants must hold a third-level degree in media production or a media-related area. They must also have an existing skill-set that they wish to further develop.
An applicant briefing will be held in May, with recruitment interviews held via Zoom shortly afterwards.
Bridge to Employment
Kerry College Admissions Officer John Herlihy is looking forward to the first intake:
"We speak to so many graduates every year who find it difficult to build further experience or bridge to employment in the media production sector," said Mr. Herlihy.
"The Covid pandemic has made this even more difficult, so we're delighted to be able offer a new route into the sector.
"It's always exciting to get learners working with real clients and collaborating with our other young producers in training with us across TV, Film, Photography, Design, Video, Audio, Podcast, Creative and Radio," he said.
Contact Details
Full details are here: https://kerrycollege.ie/full-time-courses/media-graduate-production-internship-tralee/
For information on the course or the project activities, contact Jim Twomey by email: jim.twomey@kerrycollege.ie
For information on how to apply, contact Kerry College Admissions Office by telephone on 066 71 4 96 96 or by email: info@kerrycollege.ie

You can contact The Maine Valley Post on…Anyone in The Maine Valley Post catchment area who would like to send us news and captioned photographs for inclusion can send them to: jreidy@mainevalleypost.com Queries about advertising and any other matters regarding The Maine Valley Post can also be sent to that address or just ring: 087 23 59 467.