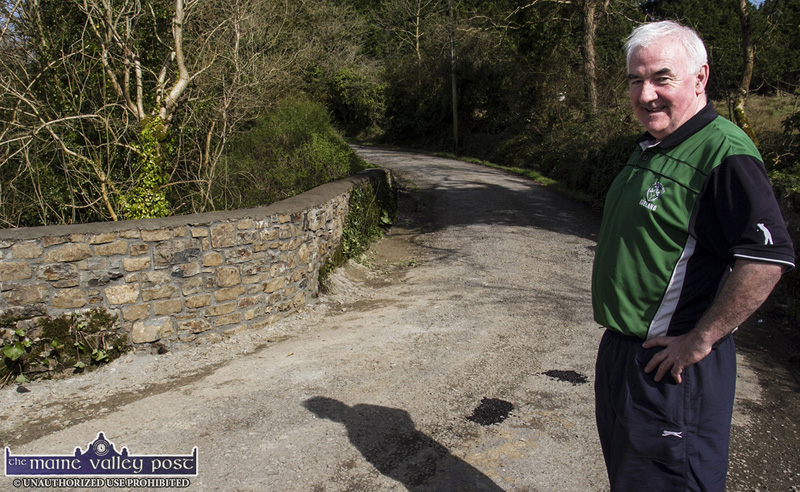 Around the middle of last year the parapet of a little bridge over a stream in Kilquane in Cordal was hit by a large vehicle and rendered highly dangerous by the nature of the damage done.
Since then, and up to the last couple of weeks, both Cllr. Jackie Healy Rae and Cllr. Charlie Farrelly received requests to have the bridge restored to its full capacity for the safety of those who use the narrow, winding road over the stream.
Dangerous Drop to River Bed
The case took on an urgency as the drop from the parapet of the bridge down to the bed of the stream is estimated locally to be in the region of 60 feet at least.
A cascading, flooded stream without a parapet on its bridge posed its own dangers at the bend on the narrow road.
The following questions and statements were issued by the councillors credited below and both men welcomed the completion of the bridge and the excellence of the stonework applied in its restoration:
Cllr. Charlie Farrelly: "What is the update on the bridge on the L 10724 at Kilquane, Cordal. When I had a motion at the September meeting, I was told it would be completed during the last three months of 2020." – A question asked at the Castleisland and Corca Dhuibhne Municipal District meeting on Thursday, March 18th. 2021.
Cllr. Jackie Healy Rae: In November 2020 Cllr. Healy Rae was on the case and he issued the following statement at the time:
"It is unfortunate that is still hasn't been done, but, it has been confirmed to me earlier in the week that Kerry County Council is seeking an outside contractor to carry out the repairs.
"The tender documents are being prepared with works expected to be carried out in the first quarter of 2021.
"It's not ideal to have it ongoing this long, but, I will be keeping the pressure on to have it repaired as soon as possible," said Cllr. Jackie Healy Rae.
Glad that Work is Complete
Cllr. Healy Rae said this week said that he is glad that work has been completed on the reconstruction of the damaged bridge.
"This is a matter I have been working on over the last number of months and am glad now that the bridge has been restored by the appointed contractor," he said.

You can contact The Maine Valley Post on…Anyone in The Maine Valley Post catchment area who would like to send us news and captioned photographs for inclusion can send them to: jreidy@mainevalleypost.com Queries about advertising and any other matters regarding The Maine Valley Post can also be sent to that address or just ring: 087 23 59 467.