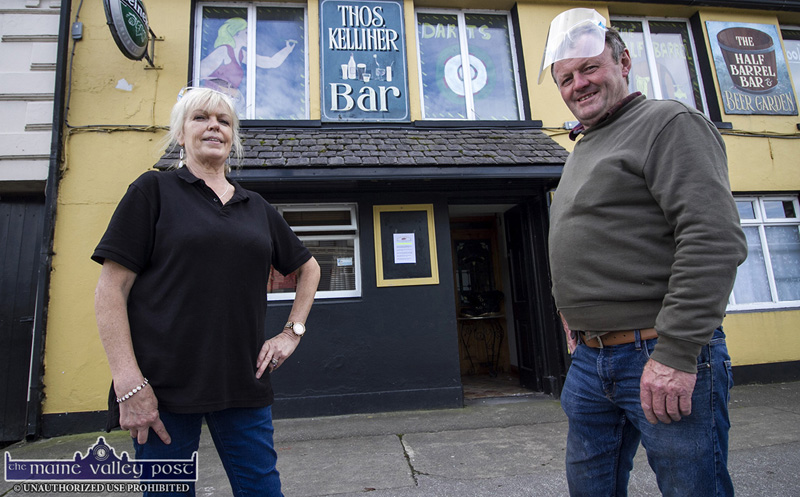 All changed, changed utterly is a historically enshrined utterance attributed to WB Yeats and his emotionally charged work in the aftermath of the 1916 Rising.
And the philosophy of the line could be applied to the uncertainty of life as we know it today.
Kathleen O'Connor has been the host of The Half Barrel Bar on Castleisland's Upper Main Street since 2014 and has experienced all sides of the trade from that and similar postings in town and elsewhere.

Uncertainty Ruling the Roost
Kathleen, known with great affection as 'Wanda' and a familiar face behind the bar from her stints at popular local pubs like: Tom McCarthy's and Skevenas, really pushed the boat out at the end of last August  when the pub trade got a brief respite and re-opened.
But now with that uncertainty ruling the roost in so many ways, Kathleen and her partner, Paddy Bradley have reluctantly decided to call time on their successful careers in the trade and their time at The Barrel.
"Apart from the ongoing lock-down during Covid-19 there are so many things working against the pub trade at present," said Kathleen.
Changes will Linger
"I think the changes that people have made since the lock-down began will hang on as so many people have put their own bits and pieces together in their own homes and then you have vans going around with barrels and taps and they're supplying people.
"There are so many things like that working against the success of the pub trade as we knew it and we noticed that the crowds on the weekend nights were beginning to fall off due to the drink driving laws anyway – and you'll have people who'll be nervous of coming back to a pub setting for a while to come.
Blessed with Customers
"I was working the bar seven-nights-a-week while I was there and that's hard going but I was blessed with the customers I had. I enjoyed seven great years there and made many good friends along the way.

"This lock-down made me realise that there's more to life and now I'm looking forward to joining them on the other side of the bar when things get back to normal.
"I'm encouraging anyone thinking of going into the business at the Half Barrel to go for it and I got a few calls about it and I'm telling them to have a go if they feel up to the hours.
The Effort and the Hours
"I also tell them about the loyalty of the local customer base we had and if they're willing to put in the effort and the hours there's no reason why they couldn't build it up again in spite of everything.
"We had some great times and a solid weekend and Sunday trade there and made some fantastic memories while we were at it – but it's time for us to call time now," said Kathleen.
You can contact The Maine Valley Post on…Anyone in The Maine Valley Post catchment area who would like to send us news and captioned photographs for inclusion can send them to: jreidy@mainevalleypost.com Queries about advertising and any other matters regarding The Maine Valley Post can also be sent to that address or just ring: 087 23 59 467.