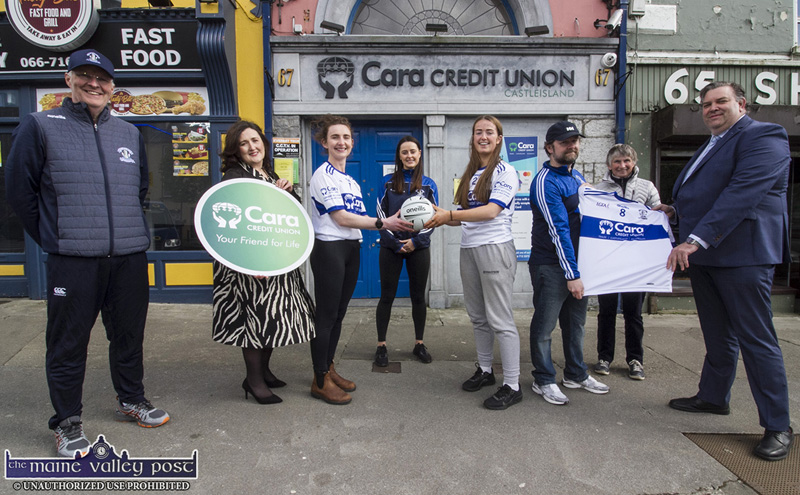 All associated with Cara Credit Union in Castleisland are delighted to announce that their Current Account with globally accepted Mastercard® Debit Card are the new sponsors of the Castleisland Desmonds senior ladies footballers.
This deal compliments the Credit Union's Current Account sponsorship of the LGFA's All-Ireland Ladies Club Football Championships. 
This partnership will also sponsor the LGFA's annual All-Ireland Club 7's blitz day and National Volunteer awards.
Grateful for Support 
Castleisland Desmonds Ladies Club PRO. Gerard Murphy said that the club is hugely excited to welcome Cara Credit Union as jersey sponsor of the senior ladies team.
"We are very grateful for the ongoing support from our local credit union in Castleisland. These are challenging times for all of us in sport but Cara Credit Union has shown incredible faith in the LGFA by agreeing to come on board as sponsors – and I wish to thank them most sincerely for that."
Enhancing Lives and Communities 
Patrick Burke, branch manager of Cara Credit Union in Castleisland said that the Credit Unions and the LGFA have a common purpose.
"It serves to enhance the lives of members and communities and share similar values based on integrity, inclusiveness, fairness and innovation. So our sponsorship of the Castleisland Desmonds ladies is a perfect match," he said.
Community Based Service
"With the introduction of the Current Account and Mastercard Debit Card, members can now do all their day-to-day banking through their Credit Union while supporting in a practical way the growth of this much trusted community-based service that is the Credit Union.
"Through this exciting sponsorship, they will also be supporting the continued development of the LGFA and, in this instance, Castleisland Desmonds. 
"The sponsorship reflects commitment to supporting and strengthening local communities solely for the benefit of the people living in these communities," said Mr. Burke.
Recent Bank Closure Announcements 
With the recent news of the closures of branches of other financial institutions we are once again reminded of the importance of the Credit Union sector. Credit Unions, as established financially inclusive co-operatives, exist solely to meet the needs of their members.
If you would like to find our more about Cara Credit Union's current account and Mastercard Debit Card call into the team in Castleisland,  Patrick, Philip, Hannah and Cora to find out more.
You can contact The Maine Valley Post on…Anyone in The Maine Valley Post catchment area who would like to send us news and captioned photographs for inclusion can send them to: jreidy@mainevalleypost.com Queries about advertising and any other matters regarding The Maine Valley Post can also be sent to that address or just ring: 087 23 59 467.