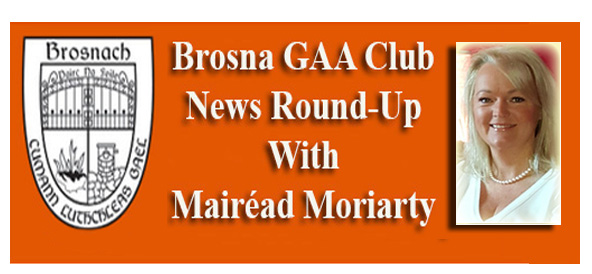 Our Very own LGFA Registered U-12 Team
We have our very own LGFA Registered U12 team. A big step forward for ladies football in our parish. 
The Ladies Gaelic Football Association welcomes its newest team:  Brosna/Knocknagoshel U-12s. The team members took to the Brosna pitch on Saturday for their first ever training session.
Well done to John O'Keeffe and Geraldine O'Sullivan and other committee members who have helped make this dream a reality for our girls. 
With Sympathy
Eileen O'Connor of Carrigeen was laid to rest in Brosna this week. A native of Knocknagoshel, Eileen was for many years a great supporter of so many events in the Parish. 
Through her husband Patrick, they were part of the music royalty of this community.  We send our sincere condolences to all of Eileen's family at this sad time.
We also remember Margaret Leahy of Reacashla who passed away in Stockport, UK.  Our deepest sympathies to all of Margaret's family both here and abroad.
Calling All Musicians
The Con Curtin committee is looking for any local budding musicians who wish to submit a video clip, not to exceed 10 minutes, to concurtinmusic@gmail.com. 
The committee is putting together virtual concerts and performances that will be broadcast during 25-27 June and are looking to showcase our homegrown talent.  Now is your chance to shine.
May is the Month
In keeping with tradition, don't forget to make a pilgrimage to our beautiful Blessed Well. 
For decades, it's been the place where pilgrims went to ask for a miracle.  As we start to emerge from this period of great upheaval, it might be a good opportunity to go and express gratitude that our Parish has traversed the difficulties of the past year and emerged virtually unscathed.  
Gratitude for Community Heroism
And with this in mind, let's say a collective thank you. 
Not just to the wonderful people in our community who have been on the front-lines but also to each and every one of us. 
We showed patience and consideration over the past year, strictly observing the government rules and working as a close knit group for the betterment of all.  Round of applause, Brosna.  As ever, you have been heroic.

You can contact The Maine Valley Post on…Anyone in The Maine Valley Post catchment area who would like to send us news and captioned photographs for inclusion can send them to: jreidy@mainevalleypost.com Queries about advertising and any other matters regarding The Maine Valley Post can also be sent to that address or just ring: 087 23 59 467.