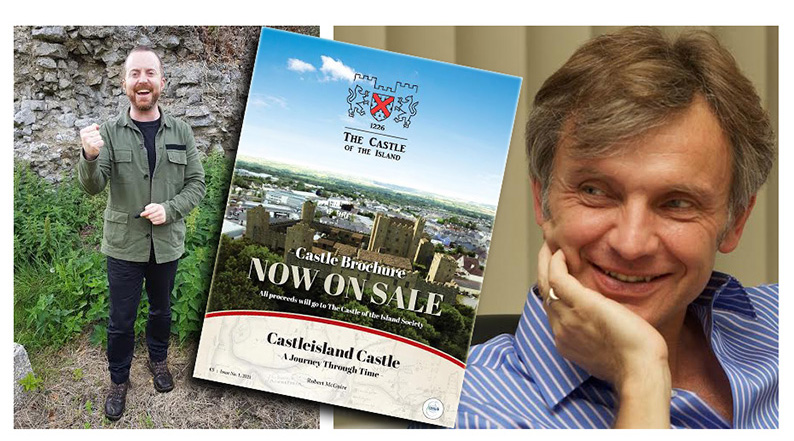 An international multi-disciplinary team is all ready to go on the compilation of a conservation management report on Castleisland Castle.
This development comes as a result of the efforts and perseverance of Currow native, Robert McGuire.
For almost 15 years now Robert has been ploughing what has often been a solitary furrow, in pursuit of the recognition of the importance of the castle, in a historical architectural and archaeological context.
Interest in Medieval Castles
Robert, a son of Eamon and Sheila McGuire of Lyre, Currow, holds an MA degree in buildings archaeology, with a special interest in medieval castles and, in particular, Castleisland Castle.
Various phases of castle building took place on the site from the late 13th to the late 17th century.
Combining the results of extensive research, which he has undertaken both in Ireland and the UK, with knowledge gleaned from the excavation of similar Desmond Castles, Rob undertook the painstaking work of creating a digital reconstruction of the site, based on its appearance and layout in the late-16 th century.
Castleisland Castle – A Journey Through Time
This can be seen superimposed on the modern Castleisland landscape on the cover of his recent publication Castleisland Castle – A Journey Through Time.
In recent years Rob has also been working on the research, production and narration of a 90-minute documentary entitled 'The Castle of the Island'.
The film showcases not only the Castle and its history, but also some amazing aerial footage of Castleisland and the surrounding countryside.
RTE has committed to the exclusive broadcasting rights of the TV edition, which will subsequently be available to view free of charge on the society website.
The Big News is….

However, the big news in recent times lies in his successful application for funding under the Community Monuments Fund, Grant Scheme 2021 from the Department of Housing, Local Government and Heritage – in which funding was allocated for the compilation of a conservation management report on the ruins of the castle.
A Major Coup
A major coup was achieved this week with the signing of a contract with an international multi-disciplinary team led by Castleisland native William Keane – son of the late Bill and Gabie of Limerick Road, Castleisland.
William or Bill as he is known in the UK, is director of Clarkbond (UK) Ltd, a London-based structural engineering company.
Bill is a world expert on Regent's Street Disease – a condition which undermines Portland stone and therefore he has extensive experience on working on listed buildings.
Bill Keane's Portfolio
Bill's projects include conservation/restoration works to London and Manchester Royal Exchanges, Hailswood House, City of London and Freemasons Hall, City of London.
Other team members from the Clarkbond, London Office who will be on site in Castleisland will be Tony Isbell, a chartered building surveyor, with over 30 years experience in a vast variety of projects and consultant engineer Alfred Tsang, who for the past five years has been working exclusively on heritage buildings.
UNESCO World Heritage Site Experience
Also, on site in Castleisland during the coming weeks will be Robert Greer, PAYE, London, a specialist masonry contractor who specialises in the repair and conservation of historic and masonry buildings. Robert has worked on seven UNESCO World Heritage sites.
His notable projects include: the Tower of London; Palace of Westminster; Royal Opera House; Hampton Court; Windsor Castle; Buckingham Palace; Royal Albert Hall; Greenwich Maritime; Eton College; Cliveden House and Dulwich College.
Earl and Brother Held Captive
His work on the Tower of London is particularly noteworthy in the context of Castleisland Castle, as it was here that the last Earl of Desmond Gerald Fitzgerald, was held captive with his brother John.
The home-front will be represented by Dr. Michael Connolly, who has been Kerry County Archaeologist since 1995. Dr. Connolly will advise on the archaeology of the site and ensure that all relevant legislation is complied with.
Conservation Architect Mary O'Connell
The conservation architect on the project is Mary O'Connell, Killarney. Recent conservation projects in which she has been involved include: the former Dingle Workhouse; the former Protestant Boys' School in Dingle; the former Laundry Building, Balloonagh, Tralee and the Franciscan Friary, Killarney.
David Whelan Enterprises, Leixlip, County Kildare will be undertaking a building structure survey, drone surveying and 3-D laser scanning.
Minogue Associates, Environmental Consultants, Tuamgraney, Co. Clare, will ensure that the ecology of the site is not negatively impacted upon, by any proposed conservation measures.
Project of Huge Significance
Rob believes that this project is of huge significance not only in terms of the castle, but also in terms of the potential long-term economic spin-off for the town.
He would like to acknowledge the help, support and guidance of fellow archaeologist Marie O'Sullivan, Farranfore in respect of the current phase of the project.
About the Publication
The publication is sponsored by Ger Keane, Physiotherapist, The Clinic, 22 Killarney Road, Castleisland;  edited by Marie O'Sullivan, Farranfore, designed by Catherine Teahan, Caragh Lake, Killorglin and printed by Walsh Colour Print, Castleisland.

Available Locally For €5 at:
It is currently retailing for €5. in: Garvey's SuperValu; Centra; Jackie Reidy's Menswear and Newsagents and Tommy Hickey's in Castleisland.
It can also be had from: McCarthy's Foodstore, Currow; Moriarty's Centra, Farranfore and Polymath, Tralee.
Proceeds from all sales go to 'The Castle of the Island Society', which Rob founded in 2017. See more with a click on the link here: www.castleislandcastle.com

You can contact The Maine Valley Post on…Anyone in The Maine Valley Post catchment area who would like to send us news and captioned photographs for inclusion can send them to: jreidy@mainevalleypost.com Queries about advertising and any other matters regarding The Maine Valley Post can also be sent to that address or just ring: 087 23 59 467.