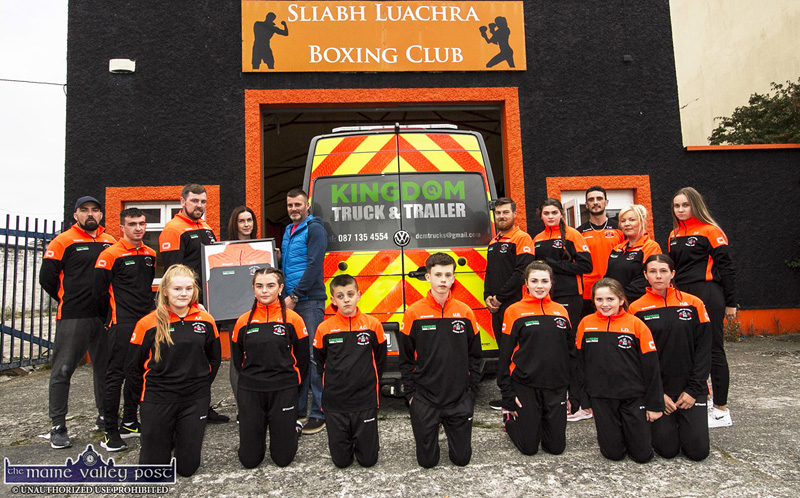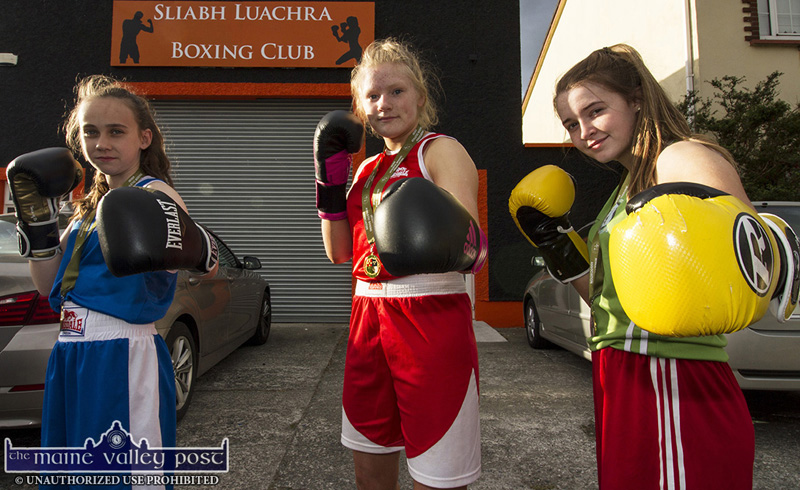 The Castleisland based Sliabh Luachra Boxing Club members were full of praise during the week for the company behind the presentation of a set of gear for the entire membership.
They would like to thank all those who have supported the club since it was re-established in 2006 and they issued 'a massive thanks' to Davy and Catriona Corkery of the Kingdom Truck & Trailer company – their most recent benefactors.
"Since 2006 the club has operated from four different bases, each move made from a need to extend the club's activities.
Moving Over – Base Secured
The club quickly outgrew its initial base in the Ivy Leaf Art Centre and moved to the Castleisland Community Centre in 2007.
A third move to a shared space in the Crageen Building provided the club with a base to erect their newly-funded boxing ring.
Their final move in January 2018 was to Castleview, Cordal Road where they have the place to themselves and have a seven-days-a-week opportunity to extend the club.
The new base also generates an income from the space which will be reinvested in the club.
Davy and Catriona as Sponsors
"Our bright, club coloured building in black and orange stands out and catches the eye, we are very grateful to one of our boxers, Leah and her dad Mike who got Davy and Catriona Corkery of  Kingdom Truck & Trailer on board as sponsors," said club spokesperson, Jennifer O'Sullivan-Coffey.
"We're delighted and lucky that Davy and Catriona came on board and that their company was in a position to sponsor ten full tracksuits for our competitive boxers and full kit for our coaches.
"We're over the moon and the boxers look amazing in the new gear.
Black and Orange Kit
"When we return to competition in the near future our team will be proudly displaying our black and orange kit.
"The club has developed as a community-based boxing club to support the participation of young people through competitive and non-competitive boxing opportunities.
"The club prides itself on being a model of good practice within the boxing and sporting sector.
It is managed and operated by a team of volunteers, who dedicate their energy and time to the club for their love of the sport and value they place in having all ages involved in healthy activities.
Great Coaches and Volunteers
"We have great coaches and volunteers and we are lucky to have some new young coaches waiting on their coaching badges to come on board.
"We're always progressing and developing for the good our boxers and our club," said Jennifer.
Recent Roll of Honour
Three of the club's girls have brought glory and success to the club in recent years:
Shauna Riordan, in the Girl 2 45kg category, has won two Kerry, one Munster and one Irish title.
Katelyn Horan, in the Youth 1 54kg category, has won five Kerry, four Munster titles and three Irish titles along with the Wexford Box Cup Gold winner 2017; Monkstown Box Cup in 2018 and two international contests in France in 2019.
Ava Fitzmaurice, Youth 1 60kg category, has won five Kerry, four Munster and two Irish titles along with a Wexford Box Cup Gold title in 2017, the Monkstown Box Cup 2018 and two international contests in Italy in 2018 and two international contests in France in 2019.
Boxing Classes for All Ages
The club activities for the season ahead includes: Boxing class for eight to 11 years every Monday from 6pm to 7pm.
Boxing class for 11 to 18 years, every Monday and Wednesday from 7pm to 8.30pm. Ladies boxing class for 17 years and upwards, every Tuesday from 7pm to 8pm.
These classes present an ideal opportunity to get fit and learning the skills of boxing. Adult mixed boxing class on every Thursday from 7pm to 8.30pm.
Elite, competitive boxing classes every Friday or Sunday 7pm to 8.30pm.
Classes are subject to change as the club will hold a registration night and numbers will determine sizes and times of classes due to Covid considerations and safety of all boxers and club members.

You can contact The Maine Valley Post on…Anyone in The Maine Valley Post catchment area who would like to send us news and captioned photographs for inclusion can send them to: jreidy@mainevalleypost.com Queries about advertising and any other matters regarding The Maine Valley Post can also be sent to that address or just ring: 087 23 59 467.