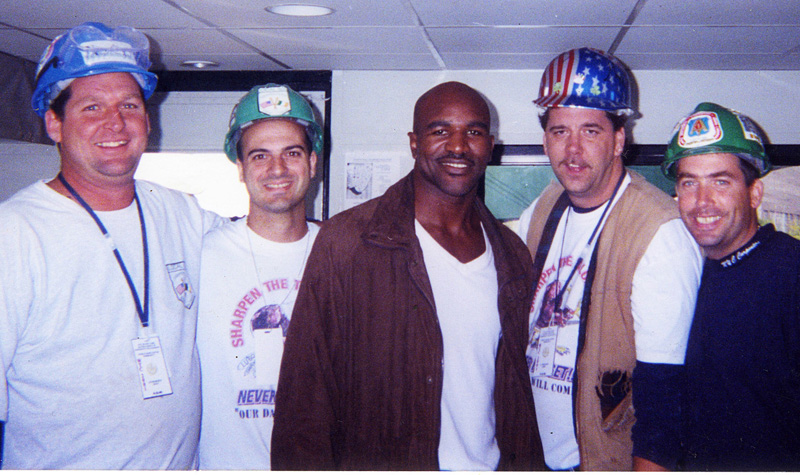 To mark the 20th anniversary of the horrific attack on New York's World Trade Centre or Twin Towers, Castleisland resident, Sligo native, Michael Burke is flying his '9/11 Heroes Flag' at Leopardstown Racetrack on Saturday, September 11th.
The flag bears the names of all those killed in the course of the incredible events on that September day in 2001.
Flying the Flag at Croke Park
Michael will continue on to Croke Park on All-Ireland Senior Football Final day where he will wear a 9/11 jersey.
"I will be looking for inter county footballers and hurlers, ladies and men to sign my jersey," said Michael who marked last year's anniversary with a county by county tour with the flag and jerseys.
Highly Qualified to Speak on 9/11
Michael Burke is highly qualified to act and speak on the conversation generated by those terrible events in New York two decades ago as he was one of the volunteer firemen posted to the site when the massive post attack clean-up swung into action – and he has an album of photographs to prove it.
Garda Colm Horkan Memorial

"I will give the signed jerseys to Charlestown Sarsfiels GAA Club to raffle and raise much needed Funds for a new football field and walkway.
The Charlestown club is running a virtual golf outing in memory of the late murdered Garda Colm Horkan for the month of September and the final will be in the K Club next year.
Golfers and clubs are being asked to register their interest and teams through the website address below.  
Win a House in Mayo
There are some really attractive prizes and if you enter before September 10th you are in with a chance to win a house to the value of value €325,000 in Westport, Co. Mayo and All Ireland football final tickets.
The website address for the virtual golf tournament is: colmhorkanmemorialpitch.com/golfclassic 
You can contact The Maine Valley Post on…Anyone in The Maine Valley Post catchment area who would like to send us news and captioned photographs for inclusion can send them to: jreidy@mainevalleypost.com Queries about advertising and any other matters regarding The Maine Valley Post can also be sent to that address or just ring: 087 23 59 467.