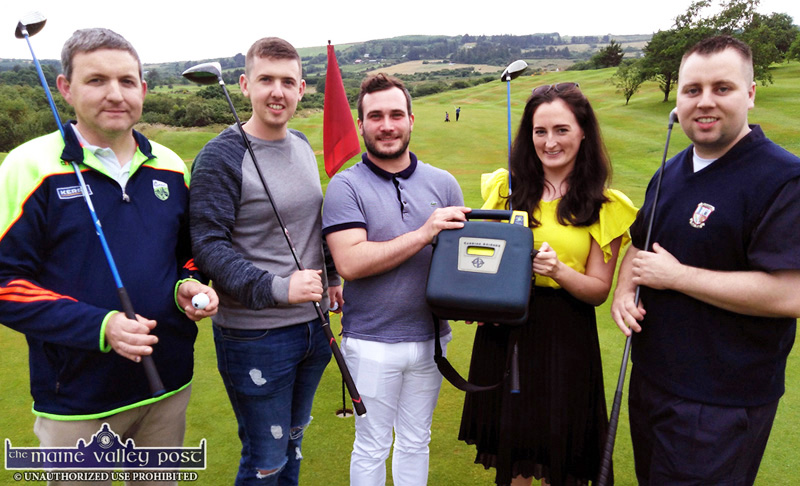 The tee times for this Saturday's Castleisland First Responder fundraising Golf Classic have been confirmed and released with an 8am start and Walsh Colour Print leading the way.
"The Castleisland CFR group would like to thank the local community which has positively supported us on our first major fundraising initiative," said PRO Oorla Casey.
The event is being held this coming Saturday at Castleisland Members' Golf Club and will be followed by the presentation of prizes at Browne's Bar,  Castleisland at 9.30pm sharp. A total of 38 teams have, so far, expressed an interest in taking part with the last team heading out close to 3:30pm.
Castleisland CFR Group Golf Classic tee times as follows:
8.00am: Walsh Colour Print
8.12am: Kennelly's Pharmacy
8.24am: St. Mary's Basketball Club
8.36am: The Maine Valley Post
8.48am: Browne's Hardware
9.00am: Kearney's Bar
9.12am: Tom McCarthy's Bar
9.24am: O'Brien's Lighting
9.36am: Allbrite Engineering
9.48am: Castleisland Rugby Club
10.00am: Tony & Trudy
10.12am: Aherns Pharmacy
10.24am: Ann Mac's
10.36am: Castleisland Soccer Club
10.48am: Desmonds GAA Club
11.00am: Martin & Liz Downey
11.12am: The Green Door
11.24am: 31 Cards Club
11.36am: E.B.S
11.48am: Motor Factors
12.00pm: Patrick Kelly
12.12pm: The Country Market
12.24pm: Corcoran's Food Equipment
12.36pm: Bart & Tommy Hickey
12.48pm: Griffin Bros
13.00pm: John Keane
13.12pm: Garvey's Super Valu
13.24pm: Kingdom Oil
13.36pm: Den Joes
13.48pm: Castleisland
14.00pm: Philip Horan
14.12pm: Danny O'Connor Carpets
14.24pm: Fagin & Martin Curtin
14.36pm: Currow GAA
14.48pm: Margaret Sheehan & Mary Shanahan
15.00pm: Walsh Bros
15.12pm: Scartaglin GAA Club
15.24pm: Ahern's Garage
Condolences to Browne Family
The organisers and all involved wish to convey their sincere condolences to Castleisland First Responder committee chairman, Neil Browne and his family on the recent death of his grandfather, Junior Browne.
Ar dheis Dé go raibh a anam.
Contact The  Maine Valley Post on: 087 23 59 467 / jreidy@mainevalleypost.com 
The Maine Valley Post is the sole Copyright holder for all site content.