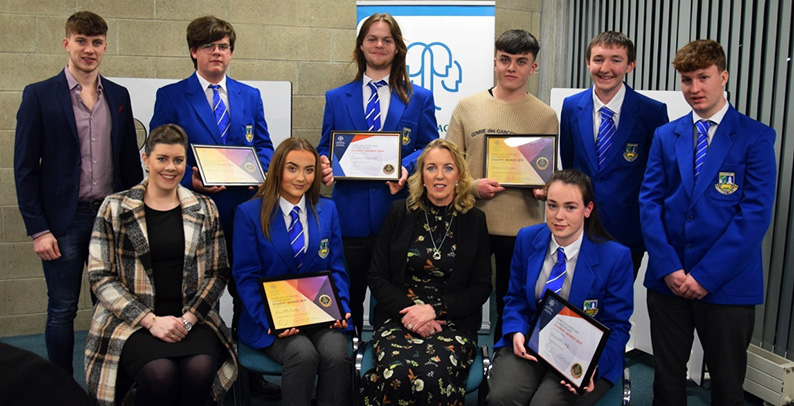 The annual Kerry Education and Training Board Awards 2019 took place in the Institute of Technology Tralee recently.
The choir from the community college opened the ceremony accompanied by Robbie Carroll playing the harp.
The awards encompass all aspects of student life in both the academic and extracurricular areas.
Eight Kerry Schools Involved
There are eight Kerry schools that come under this umbrella organisation which serves approximately 3,000 students across the county.
The 'Global Gang' comprising of transition year students of 2018/19 were acknowledged for receiving the Tidy Towns Junior Climate Action and Air Quality Award 2019.
Greg Curran: Technology Award
Greg was deemed the Best Technology Student in all eight schools.
Greg showed a great love for two of the technology subjects very early in his days at Castleisland Community College, excelling in Materials Technology Wood and Technical Graphics.
Greg is now studying Engineering and Graphics Teaching in the University of Limerick.
Konrad Kloskowski: Student Council Award
Konrad has been a valuable member of the council since he was nominated by his peers when he was in second year.
He offers encouragement to any initiative the student council has aimed to implement, working hard to bring initiatives to success.
Robbie Carroll: Peer Mentoring Award
Robbie participated fully in the peer mentoring training and showed great interest in learning the skills necessary to be a good mentor.
He displayed a sense of responsibility and maturity as a role model to the younger students which was palpable and effortless.
Kevin Keane: School Academic Excellence Award
Apart from the distinction of gaining the highest points in Leaving Cert 2019, Kevin Keane has been a great role model for the younger students in the school.
He shows that it's possible to attend to one's studies but still balance extra-curricular activities with academic work.
He has a natural flair for languages and the sciences and worked consistently across the board in all subject areas.
Kevin hopes to pursue a career in medicine upon completion of his second level education.
Micheál O'Shea: Béaltrialacha Roghnacha sa Ghaeilge an Teastais Shóisearaigh
Michéal is a past pupil of Castleisland Boys' National School and he was awarded 100% per cent in his Junior Certificate Oral Irish and he received an A in his overall Junior Certificate Irish Examination.
His linguistic flair coupled with an excellent work ethic were the qualities that enabled him to achieve this result.
Adam Joy: Exceptional Involvement in School Life at Junior Cycle
Adam has always been a fantastic ambassador for the school. A natural leader on the field of sport, he has represented the school at Basketball, Soccer and Gaelic Football, whilst also being a member of the school choir.
Ellie Lenihan: Junior Certificate Academic Excellence Award
Ellie is a bright, articulate young woman who exhibits a strong work ethic, coupled with this is her commitment to always do her best thus resulting in work which is consistently of a high standard.
She distinguished herself by achieving the highest points in Junior Certificate 2019.
Siobhán O Donoghue: Transition Year
Siobhán was involved in 'One to One' digital course, transition year fashion show and Peer Mentoring.
As a member of 'The Global Gang' she won the National Young Social Innovator's Award and Tidy Towns Climate Action Award.
Siobhán also received a bronze Gaisce Award.