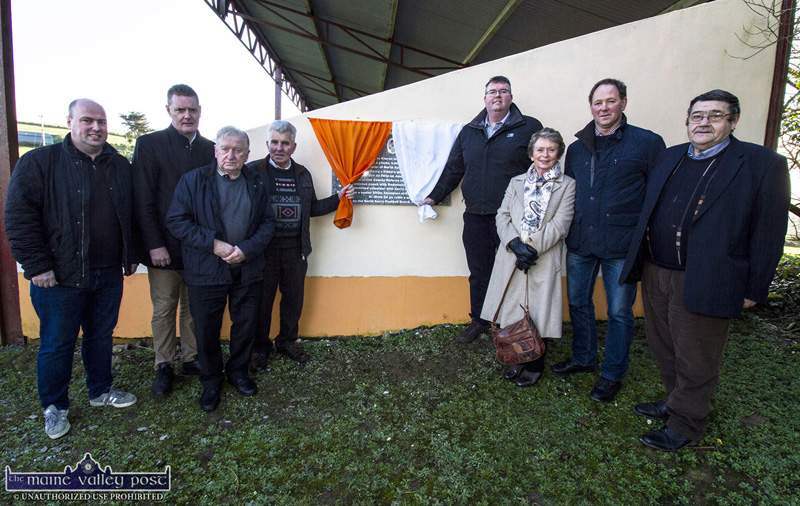 Rather fittingly, on a weekend when the Kerry team started its National League campaign with such finesse, a Brosna man whose entire life centred around Kerry GAA and sports generally was honoured in his home parish.
By Mairéad Moriarty PRO
Kieran Corridan, who was well known throughout the county as a referee and linesman, died tragically in a road traffic accident on 26 June 1998.
It cut short the life of a vibrant and active man who not only officiated at many key football and hurling games within the county but who held the post of treasurer with the North Kerry board.
A Stickler for Rules
Brosna's Fr. Gunn, another North Kerry veteran, blessed the plaque that adorns the side of the spectator stand in Páirc na Féile and told of his personal memory of Kieran.
"As a young fella playing your heart would drop when you'd see Kieran coming to referee the game. Four steps meant four steps. He was a stickler for the rules."
Fairness his Greatest Quality
Of course, what this meant was that Kieran's judgement was always fair to both parties – a quality he was admired for throughout his refereeing career.
In addition to his GAA interests, Kieran was very involved in community games within the county as well as with Listowel Badminton Club.
Novice Cup Team-Mates
The unveiling saw Kieran's surviving team-mates from the historic novice cup win by the Brosna/Knocknagoshel team of 1969 join with his wife, Mary Corridan and his son Trevor – who was invited to unveil the plaque.
Two great speeches by Patrick Brosnan and Kieran's old team mate, John Murphy reminded everyone of his contribution to football within the parish and afterwards at county and national levels.
Sadly gone but not forgotten.