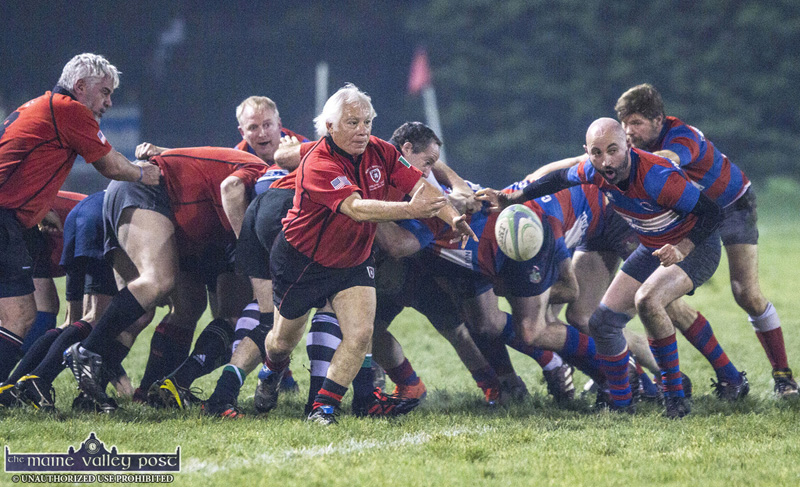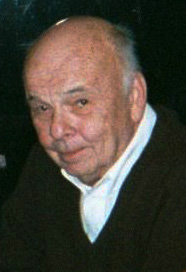 Jack Walsh of Harrison, New York died peacefully on Christmas Eve, 2019 – on his 87th birthday.
He was surrounded by family and passed away in his home, as was his wish.
As sad as this is, he and his family have much to be thankful for. Jack had very few regrets and those he had were pretty minor.
Regrets Put to Rest
One of them was that he never got around to visiting the land of his ancestors, Ireland.
His son, Chris, with the blessing of Jack's wife, Joan, rectified that in a small way, with the help of Seamus Brosnan and the Castleisland Rugby Club.
Chris is one of the members of the Morris Masters Rugby Team who have traveled to Castleisland each year since 2013 and he is the 2020 captain.
Jack's Ashes on The Crageens
After the match on January 17th. 2020, in front of both teams and the spectators, Chris sprinkled a few ounces of Jack's ashes on the Castleisland pitch, just in front of the east goalposts and now a part of him will be a part of Ireland for eternity.
Jack Will be Watching
Chris warned the Castleisland players that some day they'll be streaking in for a try between the goal posts against Morris when, suddenly, the ball will pop out of their hands or they'll slip and fall just short of the goal line.
"That'll be an indication that Jack is watching," said Chris.
The Planning and The Miles
There is no little planning behind the Morris Rugby Corporation's annual trip to Castleisland each January since that of 2013.
And there is no little welcome here for the winter visitors as drops of the rarest and food to match are sampled to keep the cold at bay.
Séamus Brosnan is the link between the clubs and communities at both sides of the Atlantic Ocean and his parents Denis and Catherine and family members on this side are there in solid and unwavering support.
Setting out on Thursday
The Morris travel plans kick in on the Thursday afternoon as the squad set out from Newark to Boston and then from Boston to Shannon.
On Friday they arrive in Shannon. Take a tour bus to Cliffs of Moher and onto Castleisland for a 'Welcome Back Reception' at the Brosnan household at Cahernard.
Annual Joust with Castleisland
They check in at River Island Hotel and prepare for the annual joust with a Castleisland RFC selection to be followed by a reception in club house.
On this occasion, John Sutherland and Seamus Brosnan were made honorary lifetime members of Castleisland RFC!
Then they head down town for a traditional music session in Browne's Bar.
Welcome Irish Breakfast
Saturday morning and a welcome Irish breakfast in the hotel and onto a tour bus to Killarney. Back to Castleisland for some shopping.
Onto a tour bus to Tralee greyhound track for dinner, bets, drink, and fun. First race was named after us and some members presented the prizes. The programme cover was dedicated to them too.
Back to Castleisland and off to Kearneys, the Half Barrel, Tom McCarthys and Browne's and some retired to the hotel bar until breakfast was served at 7am.
On to Thomond Park
Sunday Morning Comin Down: After breakfast, tour bus to Strand Hotel, then on to Thomond Park.
Gathered in the Munster Rugby Supporters Club Bar and they got to meet some of the players.
Nine of the tourists got to partake in the Guard of Honour including Lill Rimac – the first female to ever carry the large flag onto the hallowed ground.
Travel Party Capped at 50
They watched the game and met some friends and supporters from previous years in the bar before heading into Limerick and a few of the local bars and watched the American Football playoffs.
On Monday morning, tired bodies get on board the tour bus to Shannon airport to return to the USofA and the plans for 2021 are put in motion.
What started out with a handful of tourists in 2013 has had to be capped at 50 in 2020 and a waiting list is being compiled.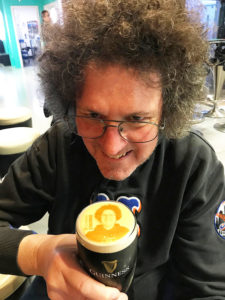 Ralph Scoville's report on the Morris isit to The Crageens and to Thomond Park
Castleisland in January is not a tourist mecca, so what would bring this Yank across the Pond?
Nothing other than the Magical, once-in-a-lifetime, never-to-be-repeated, eighth annual trip to Ireland for Munster US Supporters and Morris Rugby.
What began as just a handful of tourists has now blossomed into a mega event, with nearly 50 ruggers and rugger huggers traversing the pond to visit Castleisland, play a game and enjoy the legendary hospitality, and cap off the mad weekend at Thomond Park cheering Munster on to victory.
Magical Elixir
After a traditional first stop at the Cliffs of Moher, we ventured off for Castleisland. Our first destination was the house of Denis and Catherine Brosnan. Drinks were immediately poured from a clear glass bottle.
Wherever this magical elixir I was drinking came from, it was fantastic. But just to make sure I did not rush to judgement, I sampled again. Quality control is important, so another sampling was in order.
Brosnan Hospitality
Reinvigorated by the Brosnan hospitality, we checked in at the River Island Hotel to prepare for the evenings match.
Prior to takeoff, I had checked the IRFU fixtures and confirmed the kickoff for the Trans-Atlantic International match between the geriatric titans of Morris Rugby and Castleisland was set for 7pm at the Crageens.
John Browne Cup
The winner was to take home the vaunted, valued, and venerated John Browne Cup.
With wisps of steam streaming from our nostrils in the unseasonably chilly January evening, we ambled up the road to the Crageens, only to discover that the hometown heroes had not yet arrived!
People were saying that this Yank team was the strongest one yet in this now annual competition. Could it be that the Castleislanders had lost their nerve?
A Higher Power
Rather than a pre-match pint, had they gone to Saints Stephen and John Church to beseech a higher power to intervene on their behalf?
At 7:15, the home team arrived. After some proper warmups, the match would proceed. But before the match would ensue, Morris had to absorb an unsuspected moral blow.
Seamus Brosnan, our youth, our lime green cleated, fleet footed winger had chosen to forsake his new American jumper in favor of the one from his old Club. Who could have seen that coming?
A Hard Fought Hour
The match would kickoff. After a hard fought 60 minutes, Castleisland would retain possession of the Cup with a 30-12 bonus point win.
Among the scorers for the locals would be Seamus. Morris would look like the Keystone Kops of Vaudeville as they attempted to tackle the shifty Irishman.
Two from Two for Morris
No match report from this cheeky Yank would be complete, however, if I did not make mention of the superior kicking skills of the
foreigners. Whilst Castleisland was 0 from five in conversions, Morris was a perfect two from two. Perhaps next year some lessons are in order?
Link with Family Heritage
After the match, a ritual was observed that most American sports fans could not fathom. Jack Walsh, father of Morris hooker Chris and grandfather of supporter Rachel, passed away recently.
A world traveler of Irish descent, he none-the-less had never visited Ireland. With the gracious support of Castleisland, both teams gathered under the posts as Chris spread Jack's ashes on the verdant Irish soil, allowing his father to finally become one with his family heritage.
Supporting the Irish Economy
We spent that evening and the next day consuming pints, supporting the Irish economy, trading craic and preparing for Sunday's game at Thomond Park.
On Sunday within the Munster Supporters Bar, a wall of Seamus would emerge to put a US stamp on this sacred Irish site.
After the bonus point win by Munster over the Ospreys, we Yanks could go home on Monday with visions of Guinness dancing in our heads, to rest up…. And prepare for our rematch next year!