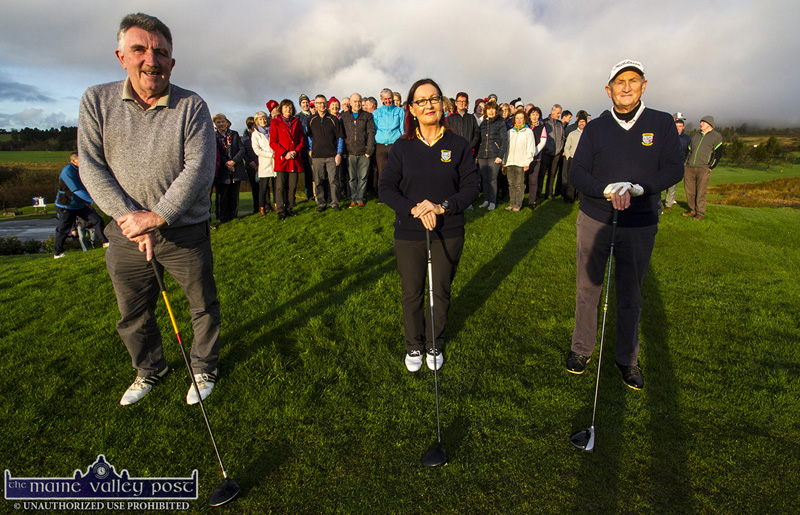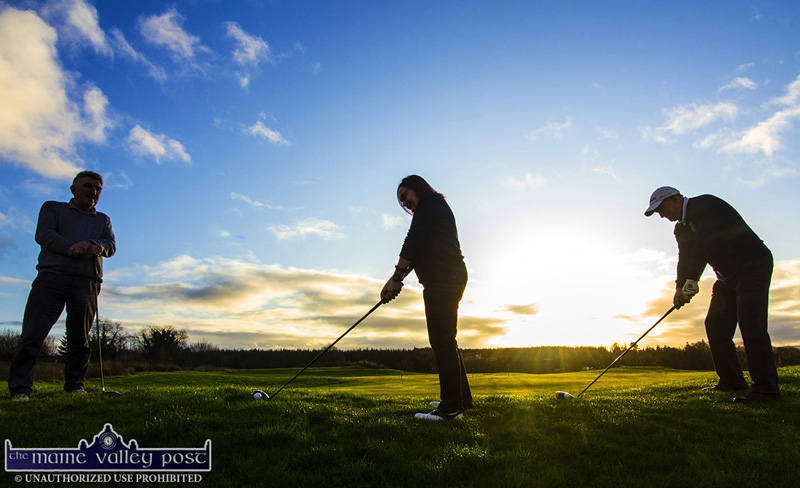 Castleisland Golf Course is celebrating its 18th birthday this year and its coming of age captains are: Marian Kerrisk and Brendan Mullins with the club under the presidency of Willie Galvin.
At their ceremonial drive-in on January 12th the trio outlined their aims and objectives for their special year.
Spring League Draw
Meanwhile, with all eyes on the current weather situation, club members will hold a draw for the annual 'Spring League' on Sunday and it is hoped that it can get underway in early March.
This is a team-of-five competition which stipulates that a woman fills one of the team places.
Captain Marian Kerrisk's Plans for 2020
Lady captain, Marian Kerrisk extended a warm welcome to members and visitors alike.
"Golf is a great game and I have an interesting calendar of events in place to increase participation in our competitions," said Marian and she continued:
"I plan to implement a coaching programme for all our ladies. This should work wonders for our handicaps and make our golf more enjoyable.
2020 sees the introduction of the World Handicap System and we will be ready to embrace this.
The ladies club ran a very successful Get into Golf programme last year with up to 40 ladies participating.
We intend to continue working with these players – they will be a great asset to our club.
We hope to repeat the success of last year's Open Day.
We will also have open mixed scrambles on Wednesday mornings and on Friday evenings during the summer months.
With a great committee in place and with the continued support of our loyal sponsors we are well placed to have a successful year."
Captain Brendan Mullins' Aims and Aspirations for 2020
Captain Brendan Mullins shares his aims and aspirations and begins with a look back on the considerable amount of work which has been done on the course in 2019.
"Our product, a smashing Arthur Spring designed golf course and a great test of golf, is better than ever.
The greens are second to none, thanks to PJ, Garrett and Mike O'Connor (RIP) who died suddenly in November and is a huge loss.
I recently read with interest the 2019 Treasurer's Report of the GUI Munster Branch.
This showed a drop of 8,695 (24 %) in the numbers playing Golf in Munster Clubs from 2010 to 2019.
In spite of this, the financial position of our club at year end 2019 – while still very challenging – is stronger than it was at the end of 2018.
We have a very able and hard working group on the Men's Club Committee and have put together an interesting programme of competitions for our men members in 2020.
We are a club that other teams hope to avoid in inter club competitions!
I promise we will be as competitive as ever in Pierce Purcell – home advantage – Jimmy Bruen, Mixed Foursomes, Junior Cup and Dr. Billy O'Sullivan team competitions.
While I live in Abbeyfeale, many don't know that I am a proud Kerryman.
Born in Tralee, grandson of a Kerry senior football goalkeeper with 'only' three All-Ireland medals.
So, it's a great honour for me to be the 2020 Captain in Castleisland.
President Willie Galvin's 'Cheery' Salute to 2020
It was with his trademark smile that Castleisland Members' Golf Club's 2020 President, Willie Galvin summed up his feelings for the club and what it means to him and what he hopes the year ahead could and would mean to existing and prospective members.
"These few song lines say it all for me and I hope we all have a good year in 2020," said Willie.
President Willie's lines are from the well known TV series 'Cheers' and they go like this:
Making your way in the world today
Takes everything you got.
Taking a break from all your worries
It sure would help a lot.
Wouldn't you like to get away?
Sometimes you want to go.
Where everybody knows your name
And they're always glad you came.
You want to be where you can see
The troubles are all the same.
You want to be…
By: Gary Portnoy and Judy Hart-Angelo
To enter your name for the Spring League Draw you can text Brendan Keehan on 087 20 76 134 or put your name on the sheet at the clubhouse before Sunday, March 1st.