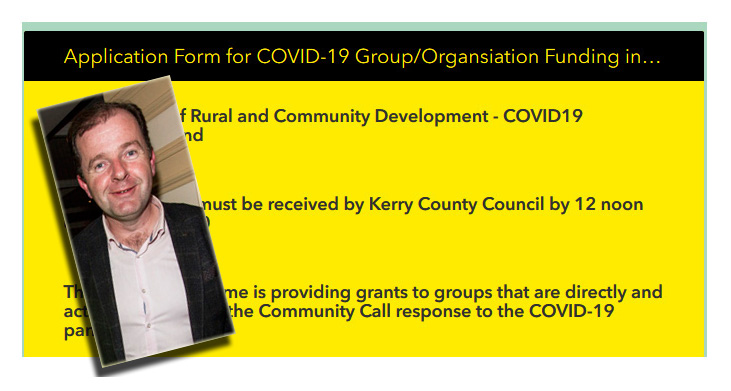 Cllr. Fionnán Fitzgerald is advising constituents that details of the COVID-19 Emergency Fund have being circulated this Friday afternoon.
"This is a grant programme to provide funding to groups that are directly and actively involved in the Kerry Community Call response to the COVID-19 pandemic. It is funded by the Department of Rural and Community Development and administered by the local authority in each area," said Cllr. Fitzgerald.

Allocation of €79,468
Kerry County Council has been allocated €79,468 under the Fund.
The recommendation from the Department of Rural and Community Development is that the majority of the funding should be ring-fenced for grants up to a maximum of €1,000.
The funding covers mainly capital type work but some current or operating expenditure related to the response to COVID-19 will also be considered.
Frontline Services Delivery
"The grant is available to those groups and organisations actively involved with the Kerry Community Support Helpline, who have incurred costs on the direct delivery of frontline services to people impacted by this crisis," according to Cllr.Fitzgerald.
"These services include delivery of meals and groceries, medicine, fuel and other similar activities.The closing date for receipt of completed applications is Wednesday, May 6th 2020 at 12 noon," he advised.
 If you're in that category and have any queries, you're advised to send them to:  Covid19emergencyfund@kerrycoco.ie
The guidelines are attached and the online Application Form is available here: https://survey123.arcgis.com/share/c885ffdd98774efc82e78a0d0eb278db