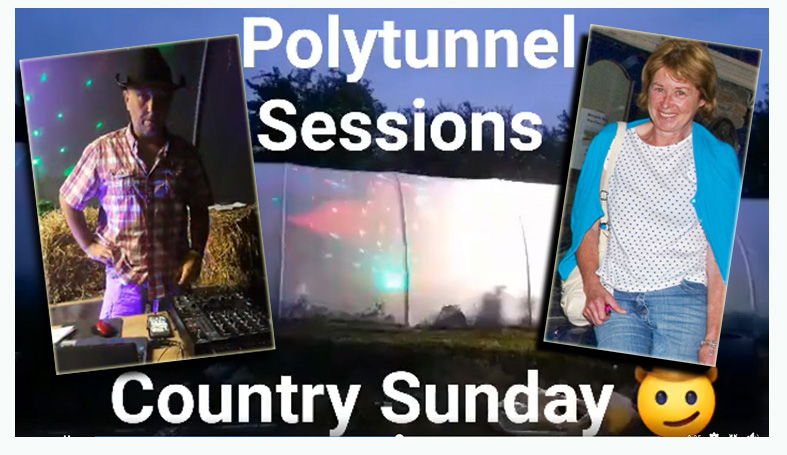 The Mall – as in Knocknagoshel – came alive over the May bank holiday weekend with nights dedicated to Poly-tunnel Pop, Polytunel Country and everything in between.
The innovative, local publican and self confessed 'part-time disc jockey' Donal O'Connor was well isolated in his poly-tunnel out the country and he decided to draw on all his skills and redundant equipment to create an event of pure altruism.
Large Enough Polytunnel
"I have a large enough Polytunnel in my garden out in the country. I'm also a part time DJ and for the bank holiday weekend I decided to stream, live on Facebook Friday, Saturday and Sunday evening from 8pm to 10pm to raise money for Pieta House," said Donal from O'Connor's famous music pub in  The Mall.
"I called it the 'Polytunnel Sessions' with a different genre of music every evening.
Friday's offering became 'Friday Night 80s.' Saturday was 'Old Skool Dance' night and Sunday was branded 'Country Sunday' where Dolly Mangan was on the mentioned list and Dolly Parton on the playlist.
Hoped for €200 Grew to €1,388
"Over the course of the weekend, I was hoping to raise €200 for Pieta House as there in no Darkness Into Light fundraiser this year so far.
"I had a donation link on my Facebook page and, by the time I finished Sunday night, it had gone up to €1,388."
Dedication to Suicide Victims
It was an event during which Donal not only considered his nominated charity but also dedicated tracks and remembered all who died from suicide.
"I'm delighted with the way it turned out," said Donal and he added that he is being encouraged to go Polytunneling again for the June bank holiday weekend," said Donal.
You can contact Donal O'Connor on 087 680 2510 and for a flavour of the scene you can click on the link here: https://www.facebook.com/donal.oconnor.98