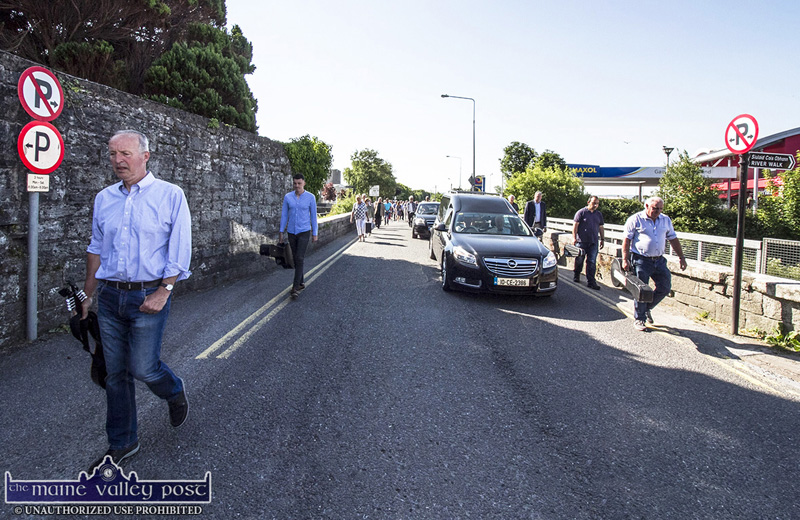 The late Sliabh Luachra fiddle player and music teacher, Paddy Jones, of Knightsmountain, Knocknagoshel and late of Kilcusnan, Castleisland got a send-off worthy of the contribution he made to the music of his locality as his remains left Castleisland this morning.
It wasn't the first time that the highly accomplished musician drew a crowd around him but, sadly, it was his last.
In as much as we dared, or were allowed to, a crowd gathered around Tangney's Funeral Home this morning as people bid their farewells – from a distance.
The New Norm
Paddy (73) passed away peacefully, on Saturday 2020 at the Bon Secours Hospital, Tralee.
As is the new norm these day, a private family funeral was held for Paddy this morning, at 9.30am.
His remains left Tangney's Funeral Home in Castleisland, via Church Street and Main Street and the arrangements facilitated the gathering of musicians who wished to play a tune in tribute and farewell and it also took those who wanted to stand in a guard of honour into consideration.
A Reminder of His Legacy
After a fine musical tribute involving a restrictions stretching 18 or more musicians outside the River Island Hotel, Tangney's hearse then proceeded to Cork for a private cremation.
As a reminder of the legacy he has left, his neighbour, former pupil and now RTÉ multi media journalist, Amy Ní Riada took up her fiddle and played in tribute as the hearse halted on his final journey.
Stories Held Over
Like many others who have been lost to us in the current and unprecedented circumstances, there will be a well deserved commemoration for Paddy at a later date.
It will be a celebration of his life and times and stories that couldn't be told over the weekend or this morning will be held over until the time is right.