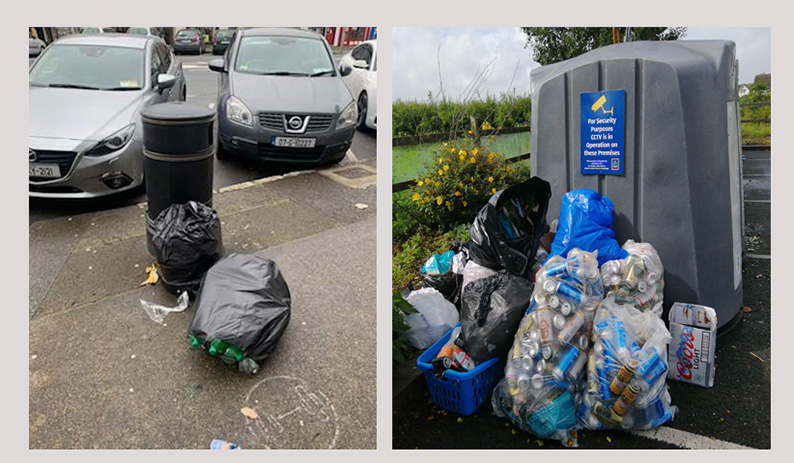 The country abounds with the feeling that 'we're all in this together' at present.
We saw it at the bash in 'Berlin' last week and at the Oireachtas Golf Society in Clifden in Galway this week.
There is ample evidence of an 'all together now' culture also under our noses here at home with bags of party debris being deposited in various places this week.
Target of Bag Depositors
The recycling facility on the ALDI carpark has been the target of bag depositors for some time now and it was hit again this week.
The evidence of parties is all too obvious in what's being dumped at the collection point.
Bags Dumped Outside AIB
However, bad and all as this is, the two bags dumped on Main Street outside the AIB Bank in Castleisland today really takes the biscuit.
The black bags are revealing their secret to the passing world as bottles can be seen peeping from a break in one of the bags.
Wouldn't you have to wonder at the mentality of the person capable of such an act on the side of a busy main street.
Footage of Main Street Dumping
As you'll see from the ALDI consignment, the bags here were dumped against the side of a bin with a CCTV warning.
It would be interesting to see if any of the business premises on Main Street around the AIB has footage of the crime in question.