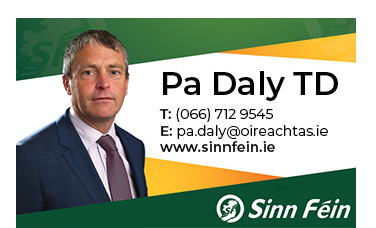 Sinn Féin TD, Pa Daly has described the Government's refusal to discuss matters such as sick pay, maternity pay or all year round employment with school secretaries and their union Fórsa as a complete failure to understand or care about the needs of workers.
Invaluable to Schools and Communities
"School secretaries are invaluable members of our schools and our communities, often working above and beyond their job requirements," said Teachta Daly.
"They work on the front line and are the first port of call for parents and students. Without them, our schools would simply not function.
"Secretaries have low pay, no holiday pay, no sick pay, no real job security, certainly no occupational pensions, and no access to public service salary scales.
Department Failure
"The Department of Education has failed to engage with school staff or their union representatives to resolve these issues. They would not even discuss them with the secretaries and their union Fórsa which led to the breakdown in talks yesterday.
"The public service should be a leader in providing fair pay and conditions for employees, but this Government either does not know about the needs of workers or it doesn't care. Sometimes, it seems like both.
Dispute Escalation
"The union is now balloting for an escalation in the dispute. This government went hell for leather to reopen our schools, but did not give one second of thought for secretaries, teachers, or cleaning staff.
"Sinn Féin in government would protect and provide for workers and their families. The callous disregard of Fianna Fáil and Fine Gael must come to an end," said the Kerry Sinn Féin TD.