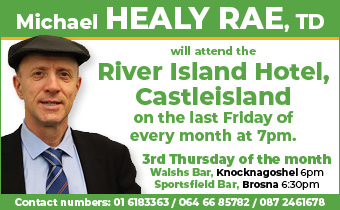 Deputy Michael Healy Rae has said that the Government continues to lack the foresight to understand that the push to electric cars remains very much an urban based agenda.
Many hard-pressed rural people are facing an extra €50 per year in car tax as well as increases in the price of petrol and diesel following today's budget.
All For The Polluter Pays
Responding to the news that the Minister for Finance Paschal Donohue is to extend the nitrogen oxide surcharge bands so that higher emitting vehicles pay more, Deputy Michael Healy said.
"I'm all for the polluter to pay more.
"That is fair but it is not fair when the alternatives such as public transport and electric charge stations remain a service solely for urban customers.
Minimum Wage Jobs Dependence
"What the Minister seems to forget is that most of the people driving older cars in rural Ireland do so because of the state of the road infrastructure and simply can't afford to upgrade in these current climates as many of them depend on minimum wage jobs."
Motor Businesses Wiped Out
e added that the last change to VRT in 2008 saw 150 motor businesses wiped out and today's news will certainly hurt many more in the motoring industry who are doing their best to keep their forecourts open.
"Many people would love to be in a position to go out and buy a new electric car but they don't have that option as the services to charge the car are just not available.
The only choice they have however is to drive what they can afford after they pay their mortgages, pay university fees, pay their local property tax and keep what little they can on the table."
VAT Reduction Useless if Hospitality Industry Remains Closed
Deputy Michael Healy Rae has said that the reduction in VAT rate from 13.5 per cent to 9 per cent as announced Minister for Finance Paschal Donohoe will have little affect if the Government don't put their proper focus into reopening the hospitality industry.
"In any other time I would have been so delighted with the news that the VAT rate has dropped back to 9% but in truth while I welcome the move it will have no immediate impact on the hospitality sector in these unprecedented times.
"Many of them are still being kept in the dark with regard to their possibilities of reopening in a meaningful way. In simple maths a 4.5% reduction of nothing is still nothing"
"Christmas is only ten weeks away and the season is so vital to many of those in the hospitality industry and for many businesses it usually amounts to almost a third of their yearly income.
"The news of a VAT reduction is useless to them," he added.
"The reduced VAT rate from 13.5 per cent to nine per cent will come into affect from November 1st and remain in place until December 2021," he said.
You can contact The Maine Valley Post on…Anyone in The Maine Valley Post catchment area who would like to send us news and captioned photographs for inclusion can send them to: jreidy@mainevalleypost.com
Queries about advertising and any other matters regarding The Maine Valley Post can also be sent to that address or just ring: 087 23 59 467.