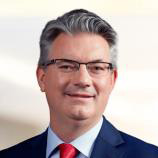 A Prophet In His Own Land
Unlike the old adage about prophets, let's all tip our hats to the very impressive Edmond Scanlon.
In a brilliant interview in The Sunday Times on 18 October 18th the heading read How Edmond Scanlon, son of a local dairy farmer, took Kerry round the world.
It's no small feat to be chief executive of this global business and for someone still in his 40s.  Wishing Edmond continued success from his own land.
Appointed in October 2017
Edmond Scanlon was appointed executive director and group CEO on October 1st 2017.
Regarded as a highly experienced leader in the global food and beverage industry, he spent almost 20 years in senior roles across the group.
"He brings a strategic mindset to drive group performance and growth as well as significant financial and operational expertise.
"Edmond joined Kerry's graduate development programme in Ireland in 1996. Over his career he has held leadership roles in the group's flavours and applied health and nutrition businesses as well as heading up the group's activities in China and the Asia Pacific region," according to his Kerry Group in-house profile.
Here's a link to a Irish Times interview with Mr. Scanlon to give you a flavour of what the Brosna native is up to now:  https://www.irishtimes.com/business/agribusiness-and-food/could-kerry-be-ready-to-leave-behind-its-cheese-and-ham-roots-1.4076774
Gold Stars for Midtermers
A gold star to all of our Parish's teaching and school staff.  You've done tremendous work over the past months to keep the schools operating. 
I know every parent is grateful for the sensible steps taken by all the school staff to keep the wheels of education turning.  Wishing students, parents and school personnel a very enjoyable and well deserved midterm break.
Well Done Tim and Kerry Team and Management
It is with great pleasure we send our congratulations to Tim Murphy, chairman of the Kerry County Board.
Congratulations are extended to the Kerry team and its management on winning the National League in fine style at the weekend.
The talent both on the pitch and bench is phenomenal. This is a team that shows great promise for the championship.
Well done on bringing home the silverware.
Congrats to Limerick Hurlers
Congratulations to our very near neighbours Limerick who gave a masterclass in hurling on Sunday. 
Scoring an incredible 36 points against a strong Clare side, this is one classy and confident team.  We wish Limerick every success in the next round of the championship.

You can contact The Maine Valley Post on…Anyone in The Maine Valley Post catchment area who would like to send us news and captioned photographs for inclusion can send them to: jreidy@mainevalleypost.com
Queries about advertising and any other matters regarding The Maine Valley Post can also be sent to that address or just ring: 087 23 59 467.