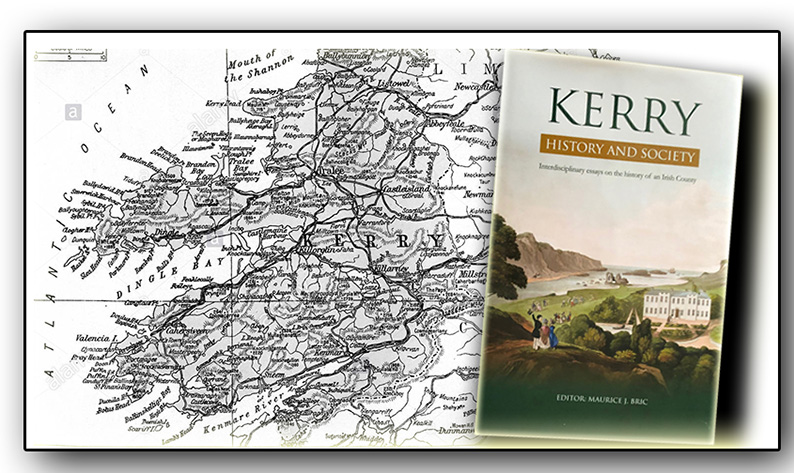 A new book which has been described 'a milestone in the history of Kerry,'charts the long and diverse history of County Kerry in many of its aspects. The book has been published by Geography Publications as part of its series of county histories.
The 650-page Kerry: History and Society is number 28 of the acclaimed series which when complete, will have dealt with the history and culture of each of Ireland's 32 counties.
The volume on Kerry is edited by the Cahersiveen-born Professor Maurice J. Bric, of University College Dublin.
It consists of 29 articles by different writers on a variety of subjects as well as an introduction by Kerry native, Professor Joe Lee and a postscript by Tommy O'Connor, Kerry County Librarian.
A Diverse Range Of Topics
Chapters cover a diverse range of topics about the history, archaeology, culture, society, ecology, language, politics, population and economy of Kerry from prehistoric times to date as well as key figures and incidents in the development of the county over thousands of years.
"This new history of Kerry is itself a milestone in the history of the county," said Professor Bric.
Aspects Of Our History And Culture
"It brings together a range of essays on different aspects of our history and culture and how they developed in different parts of the county. Kerry has a rich, diverse and interesting history and the essays reflect this. And I hope that my fellow citizens of Kerry will enjoy reading them," he said.
Available at…..
Kerry: History and Society is now available in bookshops across Kerry as well as from the Geography Publications website – please Click here:  www.geographypublications.com
Orders can also be made by telephone to 01 456-6085.
A Look at the Contents
Introduction by Joe Lee
Chapter 1 A prehistory of Kerry by William O'Brien
Chapter 2 Land tenure and farming in early medieval Kerry: a survey of field systems in the Lough Currane basin by Aidan Harte and Tomás Ó Carragáin
Chapter 3 The Vikings and Kerry's early medieval kingdoms by John Sheehan
Chapter 4 The saints of Kerry in the Early Middle Ages by Elva Johnston
Chapter 5 Kings and 'the Kingdom': Corco Duibne, Cíarraige Lúachra and Eóganacht Locha Léin by Jim Reid
Chapter 6 The manor of Castle Island and the cantred of Acmys: people and places by Paul MacCotter
Chapter 7 From land-thief to planter: Kerry transactions and the rise of Richard Boyle, First Earl of Cork by David Edwards
Chapter 8 Probing the secrets of nature in eighteenth-century Kerry by Toby Barnard
Chapter 9 Insights into Kerry and the Habsburg Imperium, c.1500-c.1800 by Declan M. Downey
Chapter 10 A Jacobite poet in a Kerry context: the world of Aogán Ó Rathaille (c.1670-c.1729) by Marc Caball
Chapter 11 Mary Agnes Hickson and writing the histories of Kerry by Gerald O'Carroll
Chapter 12 Urban Kerry: the development and growth of towns, c.1580-c.1840 by Eamon O'Flaherty
Chapter 13 The evolution of a Kerry demesne, 1730-1830: Kilcoleman Abbey, Milltown by John Knightly
Chapter 14 Aspects of O'Connell family life in Darrynane during the eighteenth century by Gerard J. Lyne
Chapter 15 The campaign for Catholic Emancipation in Kerry, 1810-1830 by Maurice J. Bric
Chapter 16 The Killarney Poor Law Guardians and The Great Famine by Kieran Foley
Chapter 17 Assisted emigration as Famine relief: lessons from the Lansdowne Estate by Cormac Ó Gráda, Tyler Anbinder and Simone Wegge
Chapter 18 David Moriarty's episcopal leadership in the diocese of Kerry, 1854-77 by Oliver Rafferty
Chapter 19 The trial at Tralee: the Reverend Charles Gayer and The Kerry Examiner, proselytism or persecution? by Cliona Murphy
Chapter 20 Nationalism and the land question in Kerry 1872-92 by Donnacha Seán Lucey
Chapter 21 'Every Interest Being Catered For': clubs, societies and associational life in Kerry, 1880-1914 by Richard McElligott
Chapter 22 The Civil War in Kerry in history and memory by Gavin Foster
Chapter 23 'Since I am Come of Kerry Clay and Rock': the literature of North Kerry by John McDonagh
Chapter 24 A sense of place in Irish Language memoirs: the West Kerry Gaeltacht, 1929-1939 by Máiréad Nic Craith
Chapter 25 'Ní dheachaigh éinne riamh to Bólas ach i ndóchas rud d'fháil ann': scéalta agus scéalaithe Uíbh Ráthaigh by Ríonach Uí Ógáin
Chapter 26 Much more than 'a group of women who drank tea with their hats on': The Irish Countrywomen's Association and women's empowerment in mid-twentieth century Kerry by Rhona Richman Kenneally
Chapter 27 Party organisation, political engagement and electioneering in Kerry, 1927-1966 by Owen O'Shea
Chapter 28 The evolution of the Kerry Co-op by James J. Kennelly
Chapter 29 Population, economy and place in Kerry by James A. Walsh and Breandán Ó Caoimh
Epilogue by Tommy O'Connor

You can contact The Maine Valley Post on…Anyone in The Maine Valley Post catchment area who would like to send us news and captioned photographs for inclusion can send them to: jreidy@mainevalleypost.com
Queries about advertising and any other matters regarding The Maine Valley Post can also be sent to that address or just ring: 087 23 59 467.