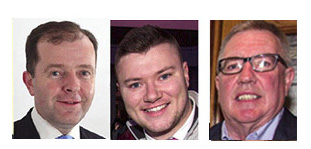 The Community Enhancement Programme (CEP) Round 2, which is funded by the Department of Rural and Community Development, has provided €155,358 for projects in Kerry in 2020.
The grants have been welcomed in messages to The Maine Valley Post by Cllr. Fionnán Fitzgerald, Cllr. Jackie Healy Rae and Cllr. Bobby O'Connell in that order.
Grant applications were invited from community groups and local organisations across the county.  Under CEP Round 2, funding is provided for capital grants towards the maintenance, improvement and upkeep of community centres and community buildings.
Ring Fenced Fund
As per department guidelines, a portion of this fund is ring-fenced to provide small capital grants of €1,000 or less.
This is aimed at assisting small grassroots community projects to get off the ground.
The programme can also fund or partially fund larger scale capital projects to address disadvantage.
A total of 82 projects have been approved for funding under this scheme.
Range Of Projects Supported
The range of projects supported include upgrading of CCTV equipment, purchase of IT equipment for community usage, adaptations or equipment needed as a result of Covid-19, improvements works to create safe outdoor recreation spaces, accessibility projects, provision of comfortable, safe meeting spaces for older people – indoor and outdoor.
The funding is being administered by the Community Department in Kerry County Council in co-operation with the Local Community Development Committee (LCDC).
Note from Cllr. Jackie Healy Rae
"I am delighted that seven community centres and community buildings in the Castleisland Local Electoral Area have today received funding under the Community Enhancement Programme which has funded a total of 82 projects in Kerry.
This funding os provided for maintenance, improvement and upkeep of these centres and community buildings. 
This is a very welcome boost particularly as we come towards what has been an extremely tough year, many of these Community Centres and Buildings provide a huge service to the local area and due to the current pandemic a lot of annual fundraisers and other forms of revenue for these buildings had to be cancelled leaving them under financial pressure, so, again this is a timely boost. 
The funding has been allocated to the following community centres and community buildings in the Castleisland-Chorca Dhuibhne LEA:
Castleisland Community Centre €1,000; Castleisland Community Day Care Centre €2,000; Cordal Community Resource Centre €2,000; Knocknagoshel Sports and Recreational Centre €2,000; Lyreacrompane Community Development €3,000; Lyreacrompane Heritage Group €1,000 and Tureencahill Community Group €1,500.

You can contact The Maine Valley Post on…Anyone in The Maine Valley Post catchment area who would like to send us news and captioned photographs for inclusion can send them to: jreidy@mainevalleypost.com
Queries about advertising and any other matters regarding The Maine Valley Post can also be sent to that address or just ring: 087 23 59 467.